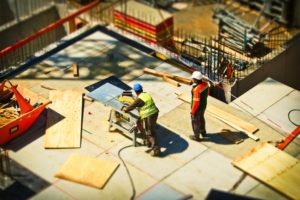 With any construction project, a solid foundation and excellent planning are integral to the successful and safe completion of the project. Sitework contractors are vital in the beginning stages of construction, and choosing a cut-rate team can lead to disaster. In this week's blog, we will explore what sitework is, why it is important, and what to look for when considering sitework contractors. No matter what type of project you are planning, the experts at Reliable Contracting are ready to help!
What is Sitework?
The term "sitework" refers to any number of tasks that serve to prepare a site for construction. The field encompasses many different processes and specialties, and each worksite presents unique challenges. Sitework contractors are often responsible for things like grading, clearing plants and debris, and locating underground utilities. Experienced sitework contractors often have a well-rounded and extensive amount of construction knowledge to cope with their wide range of responsibilities.
How Solid Sitework Sets Your Project Up For Success
Sitework includes tasks that help keep your project safe, within budget, and on track. Grading and compaction are among the key responsibilities for sitework contractors, and a stable foundation can help prevent expensive and dangerous setbacks. A well-designed worksite with proper lighting, infrastructure, and signage is another crucial consideration for sitework contractors. These experts must be incredibly knowledgeable about the worksite, as unexpected utilities or underground structures can cause expensive delays and changes. Having an experienced team working on your project from the start is crucial.
Finding the Best Sitework Contractors
It can be a daunting task to find the right team for your worksite; even if you have extensive construction knowledge, your team can encounter entirely unexpected hurdles throughout the course of the work. First and foremost, your sitework contractor should be appropriately licensed, insured, and bonded. This protects you and your company and ensures that the project is all above-board from the start. You should also look for sitework contractors that have experience working on projects that are similar to yours. Although the unexpected can and will happen during any project, sitework contractors with a great deal of experience will better be able to handle challenges as they occur. The team at Reliable Contracting has been serving clients in Maryland and the District of Columbia for over 90 years, and our dedicated professionals are committed to providing excellence in every job.
ABOUT RELIABLE CONTRACTING
Reliable is dedicated to delivering quality products, displaying professionalism within the firm, seeking new opportunities for expansion and profitability, and providing an environment for individual success. If you have a commercial or residential construction project that you need taken care of, please contact Anne Arundel County's largest site-work contractor today by calling 410-987-0313 or visiting our website. You can also follow Reliable Contracting on Facebook, LinkedIn, Pinterest, and Twitter!

Reliable Contracting Company serves the following and surrounding counties: Annapolis, Queen Anne's, Anne Arundel, Baltimore, Baltimore City, Calvert, Caroline, Charles, Howard, Prince George, St. Mary's, Talbot, and Washington D.C.