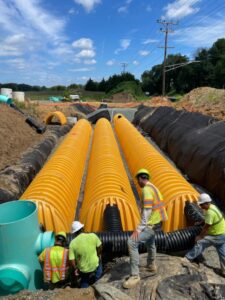 Reliable's Utility Division is responsible for installing water and sewer lines, storm drains and storm water management systems – creating strong foundations for efficient and environmentally-friendly commercial and residential land development in Maryland.
Poorly designed or improperly constructed utility infrastructures can lead to job delays, failure of roadbeds and building foundations, and major environmental damage from flooding and erosion. You can't afford to take chances with this crucial phase of your project: Our trained personnel can call upon a complete arsenal of modern equipment to ensure that your project is done right, so let the experience of our Utility Division take the worry out of your infrastructure project:
Storm water management systems
Storm drains, catch basins, man holes, drainage culverts and dissipaters
Sediment and erosion control, retaining walls
Structural Plate Piping, Box Culvert, Precast Bridges
Emergency Repairs
Environmental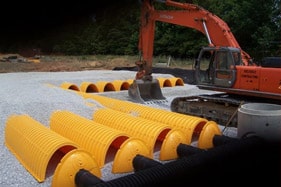 In 2008, Reliable Contracting was the first commercial site contractor in Maryland to install a new type of storm water management system, known as RSCD, or Regenerative Stormwater Conveyance Design in a residential development. This environmentally-friendly design consists of a shallow earthen bowl planted with water-absorbing plants, coupled to an overflow channel strewn with large rocks, tree trunks and more plants to effectively slow down and absorb water runoff, rather than simply channel it through corrugated pipes or concrete troughs in to nearby streams. This system combines physical terrain features, organic chemical processes and biological mechanisms to make a dramatic and positive effect on the ecology of the drainage area while also creating a more aesthetically pleasing structure. This project has won praise from the Maryland Department of the Environment, the Severn River Commission and other environmental groups, and will serve as the foundation for more such projects in the future.
Whether you need a simple drainage swale installed or the design of an entire water management system, we would welcome the opportunity to bid on your next utility/infrastructure project.