Get the Best in State-Certified Asphalt Paving
If you need asphalt paving done in Maryland, Reliable Contracting Co., Inc. is your best choice. We are state-certified for asphalt paving and follow all county and state regulations, so you know you're getting the best in quality service and expertise. Our asphalt paving projects have included, among others:
State highways
Commercial parking lots
Airports
Residential and Commercial Developments
County Overlays
Schools
Company Asphalt Plants Improve Our Paving Services
With Reliable Contracting Co., Inc., you aren't just gaining access to our highly-skilled asphalt and milling crews. We have our own asphalt plants, which allow us to control the quality of the asphalt needed for the job. In addition to being able to produce our own asphalt, having our own plants allows us to recycle milled asphalt. This is just another example of our commitment to keeping our business as environmentally friendly as possible.
Asphalt Paving Repairs
We take care of all the aspects of asphalt paving, including repairs that require patching and milling. When asphalt is patched, it is bumpy and uneven. We then go back in for milling, which smooths out the surface of the asphalt. Quality is our guarantee!
It is a very common sight for road workers to witness traffic that fails to slow down or drive safely in areas where construction is ongoing. The team at Reliable Contracting Co., Inc. would like to remind everyone about the importance of reducing driving speed and operating a vehicle more carefully while passing through road construction. By reducing your speed and staying aware of where construction crew members are standing, and which lanes are closed, you help keep our crews safe on every job.
Choose Reliable Contracting Co., Inc. For Your Asphalt Paving Needs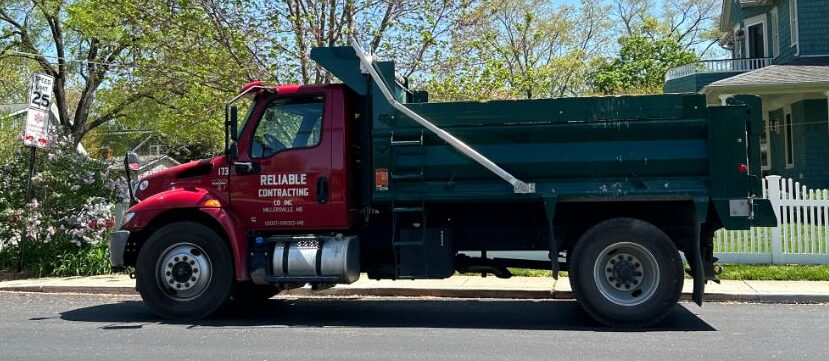 Public Service Announcement for Paving & Road Safety
Reliable Contracting Co., Inc. is highly qualified to handle your needs. We are focused on seeing every job through to completion while providing quality services and solutions. So how do we set ourselves apart from the competition?
We serve all sectors, including private, public, local, state, and federal.
We have completed projects for Andrews AFB, Fort Meade, NASA, and NSA.
Our staff has more than 200 years of experience collectively.
Our company boasts an amazing retention rate—many of our staff have been here for more than 20 years!
We have an extensive inventory of modern specialty equipment that utilizes the latest technology.
We have an exceptional MOD/EMR rating that shows our dedication to safety.
We have made an environmental commitment to make the most of our finite resources.
If you are in need of high-quality, skillful asphalt paving, you can contact Reliable Contracting Co., Inc. today through our online contact form or by phone at our nearest office to you.