Install Your Optimal Stormwater Management Systems
Stormwater management systems are designed to filter stormwater runoff in order to push clean water back into the environment. While each system performs the same basic function, our stormwater management systems are designed by engineers based on the specific needs and circumstances of the client. The Reliable Contracting Co., Inc. can install four types of stormwater management systems: ponds, micro-bioretention systems, submerged gravel wetlands, and underground detention systems.
Storm Water Management Ponds     Micro Bio Systems     Submerged Gravel Wetlands     Underground Detention Systems
Ponds

A pond storm drain system brings runoff into the pond until it fills up to the weir level. Once this happens, the sediment will have settled, and the runoff will exit through the outfall, where clean water will be dispersed back into the environment. This storm drain system has a larger footprint than the other possible alternatives. 
Micro-Bioretention Systems
This system is similar to a pond, but it is smaller and more efficient. It uses several types of planting soils, aggregate sand, and gravel to filter the runoff before it sends clean water back into the environment through perforated piping. The clean water runs out the bottom after going through the different sediment levels. The filtration media is made up of mostly soil, with the aggregate sand and gravel in significantly lower quantities.
Submerged Gravel Wetlands
Submerged gravel wetlands are quite similar to the micro-bioretention system. The system works the same way, but the filter media quantities are reversed. These systems utilize significantly more gravel than aggregate sand or planting soils to filter the stormwater runoff. This system can also effectively handle more runoff than micro-bio systems.
Underground Detention Systems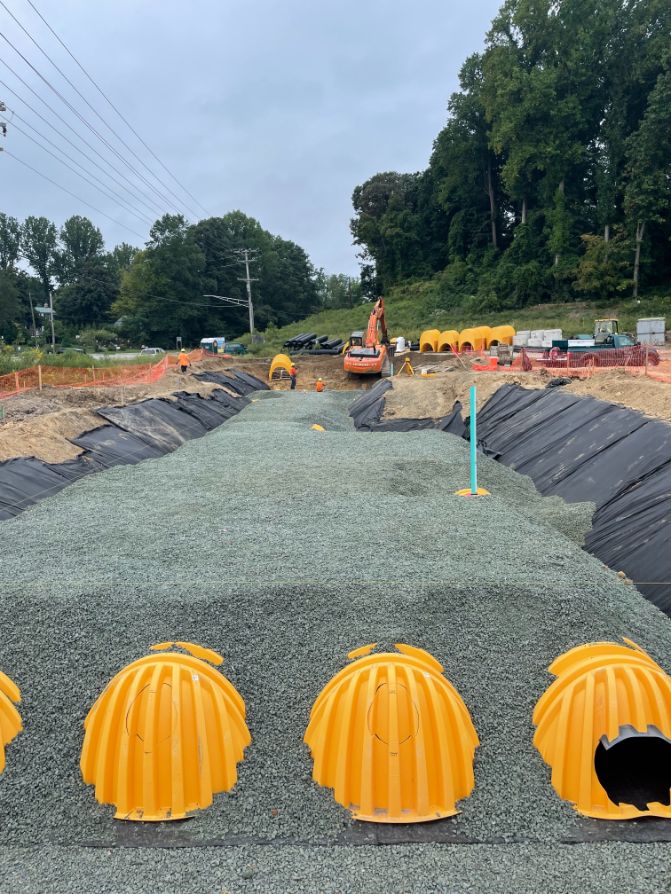 Underground detention and storage systems are a bit more unique due to the fact that they are typically only used on commercial properties that require a large parking lot. Because these systems can be installed under the parking lot, it can save significant space while providing the necessary drainage services. 
Contact Reliable Contracting Co., Inc. For High-Quality Stormwater Management Systems
Reliable Contracting Co., Inc. is qualified to handle your stormwater management needs. We see every job through from start to finish while providing high-quality services and solutions. So how do we set ourselves apart from the competition?
We serve all sectors, including private, public, local, state, and federal.
Our staff has more than 200 years of experience collectively.
We have completed projects for Andrews AFB, Fort Meade, NASA, and NSA.
Our company boasts an amazing retention rate—many of our staff have been here for more than 20 years!
We have an exceptional MOD/EMR rating that shows our dedication to safety.
We have an extensive inventory of modern specialty equipment that utilizes the latest technology.
We have made an environmental commitment to make the most of our finite resources.
If you are in need of stormwater management systems and services, you can contact Reliable Contracting Co., Inc. today through our online contact form or by calling us at our offices closest to you.