Concrete Paving, Curb & Gutter Projects
Our concrete paving, curb, and gutter services are second-to-none. We are capable of accurately following the design structure and layout that is done by the civil engineer responsible for the site, sothe outcome isn't just perfect aesthetically but also functional as designed.
State-of-the-Art Equipment for Excellent Results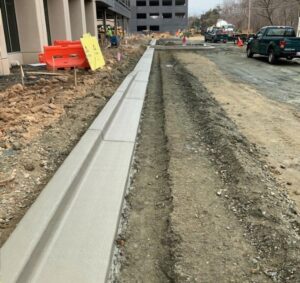 With our specialty modern equipment, we can pour more than 3,000 linear feet of concrete on-site per day! Our state-of-the-art Power Curber machines enable us to achieve high levels of productivity with minimal waste and little hand-finishing needed. We are also equipped to work on flat services, parking lots, as well as elevated areas such as ramps. Our services are highly efficient so the job is completed quickly and accurately.
Our concrete, curb, and gutter services also tie into our stormwater management systems—together, they work in tandem to carry runoff to the proper drainage systems. This functionality is crucial for flood prevention.
Some of the projects we've worked on include:
Roads
Parking lots
Ramps
Truck loading docks
Building aprons
Dumpster pads
Concrete islands
Developments
All of these and many other areas can benefit from our concrete paving, curb, and gutter services. We have extensive experience working with federal, state, county, and city governments, as well as private clients, for both residential and commercial projects.
Call Reliable Contracting Co., Inc. For Your Concrete Paving, Curb, and Gutter Needs
Reliable Contracting Co., Inc. is highly qualified to handle your concrete paving needs. We are dedicated to seeing every job through to completion while providing quality services and solutions. What sets us apart from the competition?
We serve all sectors, including private, public, local, state, and federal.
We have completed projects for Andrews Air Force Base, Fort Meade, NASA, and NSA.
Our staff has more than 200 years of experience collectively.
Our company boasts an amazing retention rate, as many of our staff have been here for more than 20 years!
We have an extensive inventory of modern specialty equipment that utilizes the latest technology.
We have an exceptional MOD/EMR rating that shows our dedication to safety.
We have made an environmental commitment to make the most of our finite resources.
If you are in need of high-quality, skillful concrete paving or curb and gutter services, you can contact Reliable Contracting Co., Inc. today through our online contact form or by phone at our offices closest to you.