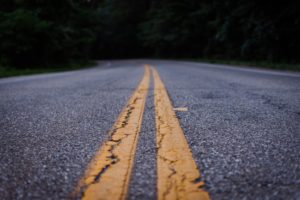 When it comes to asphalt paving, there are many different processes that come together to create a finished road or parking lot. From sourcing raw materials and producing asphalt to installing and maintaining surfaces, asphalt paving requires experience and teamwork. Asphalt production is an essential part of the paving process, and manufacturers use different methods to produce different varieties of pavement. Here is an overview of the various production methods used to create different types of asphalt.
Hot Mix Asphalt for Durable Asphalt Paving
The binding component in asphalt is bitumen, a sticky petroleum compound that occurs naturally and is refined for use in pavement. In hot mix formulas, bitumen is heated to an incredibly high temperature. Stone aggregate is dried and mixed into the hot bitumen. The mixture must be kept at a high temperature during production, transport, installation, and compaction. If the temperature is allowed to drop, the hot mix asphalt can harden and clump. Because of its specific temperature needs, hot mix asphalt can be challenging to install in cooler climates or remote locations. However, it is often considered one of the most durable forms of pavement.
Cold Mix Asphalt for Asphalt Paving Repairs
On the opposite end of the spectrum, many cold mix formulas start with a base of bitumen, soap, water, oils, and other additives. These compounds allow the mixture to be created, stored, and installed at a much cooler temperature than hot mix formulas. While cold mix asphalt is much more flexible in terms of the conditions it requires, it is typically only used for patching holes or creating roads in low-traffic areas. This is because cold formulas do not have the same level of durability and strength as hot mix asphalt.
Warm Mix Asphalt as a Versatile Option
Finally, warm mix asphalt combines production methods from the other two forms of pavement. Like cold mix, warm mix asphalt production utilizes additives and emulsifiers to produce a usable pavement mix at a lower temperature. Like hot mix, warm mix asphalt formulas are heated (albeit at a lower temperature) to create a stronger product. This creates an asphalt paving material that is durable, efficient, and more environmentally friendly. For these reasons, warm mix asphalt is an incredibly popular material for a wide variety of projects.
ABOUT RELIABLE CONTRACTING
Reliable is dedicated to delivering quality products, displaying professionalism within the firm, seeking new opportunities for expansion and profitability, and providing an environment for individual success. If you have a commercial or residential construction project that you need taken care of, please contact Anne Arundel County's largest site-work contractor today by calling 410-987-0313 or visiting our website. You can also follow Reliable Contracting on Facebook, LinkedIn, Pinterest, and Twitter!

Reliable Contracting Company serves the following and surrounding counties: Annapolis, Queen Anne's, Anne Arundel, Baltimore, Baltimore City, Calvert, Caroline, Charles, Howard, Prince George, St. Mary's, Talbot, and Washington D.C.