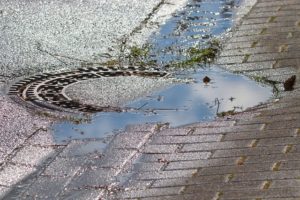 Folks in Maryland and the District of Columbia had an uncharacteristically mild winter this year. Still, the region is sure to get a decent amount of rain throughout the spring and summer. Whenever there is a surge of rain, mismanaged stormwater becomes evident, and facility managers and government officials must take action to divert, store, or process runoff appropriately. Stormwater mitigation in Maryland takes many forms, including bioswales, retention and detention ponds, and storm drains. Why is stormwater mitigation so important? Here are a few reasons why you should install and maintain an effective stormwater mitigation system with help from Reliable Contracting.
Stormwater Mitigation Efforts Protect Local Wildlife
It may seem counterintuitive to construct runoff management measures to protect local wildlife when runoff is caused by a natural process: rain. However, stormwater mitigation measures serve two vital functions in protecting ecosystems: they act to isolate pollution and prevent erosion and flooding. Pollutants and contaminants can get swept up in runoff after a storm, and these compounds are typically present due to human intervention. Without appropriate mitigation measures, things like oil, ice melt residue, and other pollutants can get transferred into local waterways, harming wildlife and vegetation.
Proactive Stormwater Mitigation Can Prevent Disaster
Pollution is not the only concern when it comes to managing runoff. Flooding can wreak havoc on ecosystems and buildings alike. Effective stormwater management is designed to handle the massive amounts of water that can be produced by consistent downpours. This is particularly important in places like Maryland, where wet weather is typical throughout the year. Without effective management, runoff can flood local waterways, wreak havoc on buildings and roads, and contribute to soil erosion. Installing a retention pond or bioswale is not only environmentally responsible, but it can also help protect your property from water damage.
Follow Local Regulations
Finally, proper stormwater mitigation techniques are often required according to local laws and codes. The state of Maryland has ordinances regarding stormwater management, and many local jurisdictions have their own additional codes. Your facility's failure to comply with such regulations can result in steep fines. Prevent flooding, pollution, and expensive fines and repairs by working with the team at Reliable Contracting. Our experts will work with you to design and install effective stormwater mitigation measures for your property.
ABOUT RELIABLE CONTRACTING
Reliable is dedicated to delivering quality products, displaying professionalism within the firm, seeking new opportunities for expansion and profitability, and providing an environment for individual success. If you have a commercial or residential construction project that you need taken care of, please contact Anne Arundel County's largest site-work contractor today by calling 410-987-0313 or visiting our website. You can also follow Reliable Contracting on Facebook, LinkedIn, Pinterest, and Twitter!

Reliable Contracting Company serves the following and surrounding counties: Annapolis, Queen Anne's, Anne Arundel, Baltimore, Baltimore City, Calvert, Caroline, Charles, Howard, Prince George, St. Mary's, Talbot, and Washington D.C.