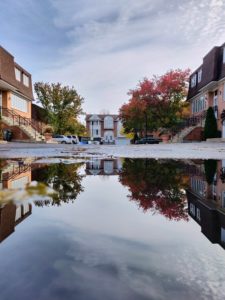 Although a significant percentage of Marylanders are enjoying springtime indoors this year, the seasons and the weather continue to change as normal. The warmer spring weather is often accompanied by an increase in rain. For properties with paved surfaces, this precipitation can reveal the need for repair services from an asphalt paving contractor. Puddles are not uncommon after a decent rain, but standing water that remains in your parking lot long after the rain stops can be indicative of some serious problems. Keep an eye out for puddles the next time it rains. If you see these or any other issues, reach out to the team at Reliable Contracting for an asphalt paving contractor that you can trust.
Rutting and Compaction Issues
If you notice puddles in your parking lot that lie where a parked car's tires would sit, you have some serious issues beneath the surface of your pavement. These ruts can be caused by a combination of different factors. Repeated parking of overweight vehicles or heavy equipment can be a contributing factor, as can improper compaction during your pavement's installation. When these heavy objects rest on your asphalt repeatedly in the same spots, they can cause the subbase and the material beneath the surface to condense. Appropriate compaction on the part of your asphalt paving contractor combined with weight limits on your paved surface can help reduce rutting.
Insufficient Drainage
Large puddles on any flat surface are likely indicators of poor drainage, and pavement is no exception. When your asphalt paving contractor plans and creates your parking lot, they have a multitude of factors to consider. Drainage is one of these factors. A qualified contractor will design your surface so that it is as flat and level as possible while allowing surface water to flow off of it rather than gather in the center. For property owners who would like to take a more active approach to stormwater mitigation, bioswales and retention ponds are excellent options.
Grade Depressions
Like rutting, grade depressions are the result of improper compaction. Unlike rutting, however, grade depressions can become evident even without excessive weight pressing down on the pavement's surface. Grade depressions occur when a poorly-compacted foundation settles and shifts, leaving spaces and uneven spots into which the surface of the pavement sinks.
ABOUT RELIABLE CONTRACTING
Reliable is dedicated to delivering quality products, displaying professionalism within the firm, seeking new opportunities for expansion and profitability, and providing an environment for individual success. If you have a commercial or residential construction project that you need taken care of, please contact Anne Arundel County's largest site-work contractor today by calling 410-987-0313 or visiting our website. You can also follow Reliable Contracting on Facebook, LinkedIn, Pinterest, and Twitter!

Reliable Contracting Company serves the following and surrounding counties: Annapolis, Queen Anne's, Anne Arundel, Baltimore, Baltimore City, Calvert, Caroline, Charles, Howard, Prince George, St. Mary's, Talbot, and Washington D.C.