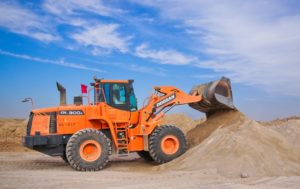 There are many materials, occupations, and methods involved in construction today. Concrete sand is just one of many ubiquitous supplies commonly found on worksites, but what is it exactly? Well, for starters, concrete sand refers to the sandy aggregate that is blended with things like cement and water to create concrete. Thanks to the ease with which contractors can adjust the ratio of cement, liquid, and aggregate, cement mixtures take a variety of forms and are used for many applications. In this week's blog, we will delve into the world of concrete sand.
So What is Concrete Sand, Exactly?
Concrete sand is a label that is typically used to describe the coarse washed sand that is a common ingredient in cement and asphalt mixtures. Its grains are larger than those of masonry sand, but a processing and screening process ensures that there are no large rocks or pebbles present. This material is often made of things like gneiss, granite, and limestone, and it is frequently mined and crushed at a quarry before it is washed and sifted. From there, the sand is distributed to contractors, supply yards, and other consumers of the material.
How Does it Differ From Other Aggregates?
There are many types of sand, stone, and other substances that are used as aggregates in construction, but concrete sand is different from other materials in a few crucial ways. Its smaller grain size compared to things like crushed stone means that the material is more suitable for creating smoother pavement. On the other hand, it is larger than masonry and white sand, making it more suited to providing fill material and drainage than serving as a finished coat.
How is Concrete Sand Used?
Although it is often used in asphalt and paving applications, concrete sand has a wide variety of uses in construction and landscaping. It is often used as pipe bedding or a paver base, and its size and texture make it ideal for holding pipes, septic tanks, and stones in place while providing adequate drainage. Concrete sand can be used to level out uneven ground, increase traction on icy roads, or act as a topdressing for golf courses and lawns. The applications for this material are virtually endless!
ABOUT RELIABLE CONTRACTING
Reliable is dedicated to delivering quality products, displaying professionalism within the firm, seeking new opportunities for expansion and profitability, and providing an environment for individual success. If you have a commercial or residential construction project that you need taken care of, please contact Anne Arundel County's largest site-work contractor today by calling 410-987-0313 or visiting our website. You can also follow Reliable Contracting on Facebook, LinkedIn, Pinterest, and Twitter!
Reliable Contracting Company serves the following and surrounding counties: Annapolis, Queen Anne's, Anne Arundel, Baltimore, Baltimore City, Calvert, Caroline, Charles, Howard, Prince George, St. Mary's, Talbot, and Washington D.C.