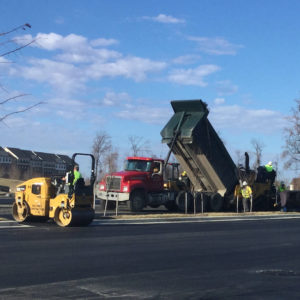 We have discussed the benefits of different types of asphalt in previous blogs, with much emphasis placed on warm mix asphalt. While warm mix is widely considered to be one of the most efficient types of pavement, cold mix asphalt has a distinct advantage when executing winter pavement repairs. This material is an excellent temporary fix for potholes, particularly in the winter, when spreading other types of pavement is not feasible. Here are a few reasons why you should consider cold mix asphalt for your next repair project.
Cold Mix Asphalt is Ideal for Winter Repairs
Unlike warm mix and hot mix, cold mix asphalt is an excellent solution for cold-weather applications. It is made of aggregate and a bitumen binder that is specially formulated to be mixed and cured without heat. Because of this, it has an exceptionally long cure time and shelf life, making it an easy material to work with. Since it can be spread at a much lower temperature, this compound can be used both in colder weather and in more remote areas that may be too far from asphalt plants for heated methods to be effective. 
Patch Potholes While They Are Small
Rather than waiting for warm weather to make repairs, consider using cold pavement formulas to create temporary patches. These temporary repairs can help prevent your potholes and cracks from becoming larger and requiring more expensive work. Projects using warm or hot mix asphalt must be postponed until temperatures rise to a suitable level. During the winter in Maryland, this can take quite a while. By using cold mix asphalt, you can address imperfections in your surfaces promptly, before they get worse or cause accidents or injuries. 
Cold Mix Asphalt Creates a Durable (Temporary) Repair
Although cold mix asphalt can be used in a broader range of temperatures, the downside is that it is often more suited to temporary patches than long-term repair. The same characteristics that make it less likely to set prematurely in cold conditions make it a less permanent solution for road repair. However, many available formulas are flexible, durable, and resistant to damage from winter's freeze-thaw cycles. If your road, parking lot, or other pavement surface is riddled with cracks or potholes, consider patching it this winter. Once spring hits, you can make more permanent repairs with a warm mix formula.
ABOUT RELIABLE CONTRACTING
Reliable is dedicated to delivering quality products, displaying professionalism within the firm, seeking new opportunities for expansion and profitability, and providing an environment for individual success. If you have a commercial or residential construction project that you need taken care of, please contact Anne Arundel County's largest site-work contractor today by calling 410-987-0313 or visiting our website. You can also follow Reliable Contracting on Facebook, LinkedIn, Pinterest, and Twitter!
Reliable Contracting Company serves the following and surrounding counties: Annapolis, Queen Anne's, Anne Arundel, Baltimore, Baltimore City, Calvert, Caroline, Charles, Howard, Prince George, St. Mary's, Talbot, and Washington D.C.