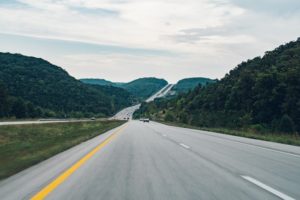 We all know that clear, visible, and accurate road markings are essential for road safety, but what do all of the markings mean? What kinds of paint can be used to create clear markings in low-visibility conditions? What types of paint are best for your project? In this week's blog, we address several road striping basics to help you become informed on different materials and markings. If your road or parking lot needs restriping, contact the team at Reliable Contracting!
Different Types of Markings
On larger roads or highways, yellow and white paint are used to create dashed, single, and double lines. While most of us know about these basic road markings, there are a few types of lines and symbols that are less well-known. Streets and parking lots often utilize blue, red, and green paint to indicate handicapped parking, fire lanes, and loading zones. Striped crosswalks (also known as "zebra crossings" across the pond) are common in both private parking lots and public roadways. Symbols and lettering are also essential in road striping. Text can be used to indicate slower traffic, bus lanes, speed limits, and turn lanes. Symbols like wheelchairs, bicycles, and arrows are also common.
Kinds of Paint Used for Road Striping
For municipalities and stretches of state or federal land, the paint used for road striping is often regulated and held to a specific set of standards. However, there are many options to consider when applying markings to privately-owned roads or parking lots. Reflective paint is popular for applications where nighttime visibility is essential, and the paint gets its reflective qualities from small glass beads that are spread before the paint is dry. While this paint is one of the most costly options out there, it is an incredible safety measure that many drivers appreciate. Thermoplastic paint is another expensive option that is popular for its ability to take a beating. Applied either hot or cold, thermoplastic paints are incredibly durable and last longer than traditional oil- or water-based paints. Although thermoplastic and reflective paints have their uses, many private and public roads can be adequately striped using basic oil-based and water-based paints.
ABOUT RELIABLE CONTRACTING
Reliable is dedicated to delivering quality products, displaying professionalism within the firm, seeking new opportunities for expansion and profitability, and providing an environment for individual success. If you have a commercial or residential construction project that you need taken care of, please contact Anne Arundel County's largest site-work contractor today by calling 410-987-0313 or visiting our website. You can also follow Reliable Contracting on Facebook, LinkedIn, Pinterest, and Twitter!
Reliable Contracting Company serves the following and surrounding counties: Annapolis, Queen Anne's, Anne Arundel, Baltimore, Baltimore City, Calvert, Caroline, Charles, Howard, Prince George, St. Mary's, Talbot, and Washington D.C.