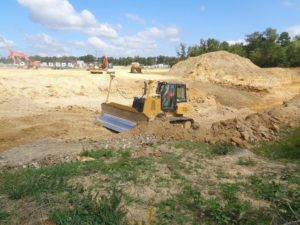 As folks in construction know, site work and site preparation are essential to the success of a project. Grading, or the process of adjusting the elevation or slope of a site, is an integral part of site work. Your grading contractor, site work contractor, and other key players will work hand-in-hand during the initial stages of your project to create a stable base for your development. Read on to learn more about the importance of hiring a qualified grading contractor for your next project.
What Does a Grading Contractor Do?
Grading contractors are responsible for altering the slope or elevation of a site's foundation in order to optimize outcomes for the rest of the project. Grading contractors ensure that your site's foundation is stable, level, and appropriate for your project. They must take many different factors into account, particularly factors relating to drainage and irrigation. Grading contractors often work closely with engineers who may analyze soil composition, future structural demands of the project, and more. All of these professionals bring their expertise to the table, and it is a grading contractor's job to ensure that a suitable base is created using any number of grading techniques.
How Does Grading Impact a Property?
Have you ever seen rainwater forming a puddle on uneven concrete? Grading contractors work to avoid this but on a much larger scale. If stormwater is not appropriately managed, excess water can seep into a project's foundation and cause structural issues. Excess water and improper compaction during construction can result in a foundation shifting or sliding, creating unsafe and unstable conditions. Additionally, engineers design certain buildings and features to work on a foundation with a specific grade. Grading contractors must ensure that the foundation is appropriately graded so that the rest of the construction project can proceed without incident.
What Kinds of Grading Methods are Used?
Many different methods can be used to create a foundation that is accurately graded. Grading and compaction often go hand-in-hand, as compaction reduces the amount that a foundation will shift. Most grading methods utilize large machines such as drum rollers, road graders, and excavators. The methods used for grading depend heavily on the soil composition and specific needs for a project, so hiring a knowledgeable grading contractor is essential.
ABOUT RELIABLE CONTRACTING
Reliable is dedicated to delivering quality products, displaying professionalism within the firm, seeking new opportunities for expansion and profitability, and providing an environment for individual success. If you have a commercial or residential construction project that you need taken care of, please contact Anne Arundel County's largest site-work contractor today by calling 410-987-0313 or visiting our website. You can also follow Reliable Contracting on Facebook, LinkedIn, Pinterest, and Twitter!

Reliable Contracting Company serves the following and surrounding counties: Annapolis, Queen Anne's, Anne Arundel, Baltimore, Baltimore City, Calvert, Caroline, Charles, Howard, Prince George, St. Mary's, Talbot, and Washington D.C.