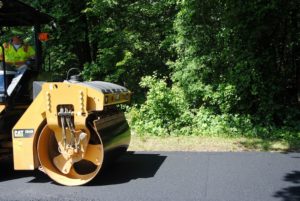 For property owners and managers in Maryland, asphalt installation and maintenance involves an incredible amount of planning, budgeting, and hard work. Whether you plan to install a parking lot, small private road, or other large surface, there are many factors to consider when creating a budget. With the state's harsh winters and unpredictable weather, both maintenance and installation present unique challenges. Fortunately, Reliable Contracting has the tools and experience to install a beautiful blacktop and keep it looking its best. Here are a few tips from your local parking lot contractor to help you cover all of your potential expenses when planning a budget.
Installing a New Surface With a Parking Lot Contractor
As we have discussed in previous blogs, laying pavement can be an expensive project. There are materials and labor costs to account for, plus maintenance costs for the lifetime of the asphalt. While it might be tempting to cut costs where possible, you must choose a reputable parking lot contractor for the installation of your new asphalt surface. Hiring the qualified professionals at Reliable can set your parking lot or road up for a lifetime of success. If you choose a cut-rate contractor, your asphalt may be installed incorrectly, causing your maintenance and repair costs to skyrocket.
Asphalt Repair and Maintenance
Another essential cost to consider when installing a new road or lot is the price of repairs and routine maintenance over the lifetime of your asphalt. Routine sealcoating is necessary, particularly in Maryland, and fresh road striping is needed to keep your lines, parking spaces, and crosswalks clearly labeled. While it can be tempting to skimp on maintenance costs, many services such as crack filling and sealcoating can actually prevent further damage, extending the life of your asphalt and saving you money.
Talk to Your Parking Lot Contractor
One of the most important things to do when planning a budget for your new asphalt surface is to talk to your parking lot contractor. Some contractors offer reduced rates at certain times of the year, and services often come at a premium during times of increased demand. Your parking lot contractor will also be able to tell you about the different materials and maintenance options that are available for your property, allowing you to get a more accurate estimate of what your budget should be for a new surface.
ABOUT RELIABLE CONTRACTING
Reliable is dedicated to delivering quality products, displaying professionalism within the firm, seeking new opportunities for expansion and profitability, and providing an environment for individual success. If you have a commercial or residential construction project that you need taken care of, please contact Anne Arundel County's largest site-work contractor today by calling 410-987-0313 or visiting our website. You can also follow Reliable Contracting on Facebook, LinkedIn, Pinterest, and Twitter!
Reliable Contracting Company serves the following and surrounding counties: Annapolis, Queen Anne's, Anne Arundel, Baltimore, Baltimore City, Calvert, Caroline, Charles, Howard, Prince George, St. Mary's, Talbot, and Washington D.C.