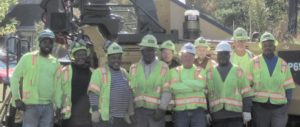 With all of the news about our awards and achievements, it is important to remember that Reliable's success is a direct result of our employees' hard work. Entire teams of dedicated and experienced construction workers go out and represent Reliable all over Maryland every day. One of these dedicated professionals is a longtime foreman, Tom Wyatt. In a recent company newsletter, Tom Wyatt was interviewed and asked about the work he does at Reliable. Keep reading to learn more about one of the most distinguished foremen at Reliable Contracting.
Tom Wyatt's Career at Reliable Contracting
Tom Wyatt, a prominent foreman at Reliable Contracting, has had a long and distinguished career with the company — over twenty years long, in fact. Tom began working for Reliable in 1981 as a general laborer, tending to the various duties required to keep a job site or project running smoothly and efficiently. While Tom left Reliable for a brief period, we happily hired him back to re-join our team in 1991.
In Tom's Own Words
Q: "What would you say you like most about your job?"
Tom: "[Reliable] always keeps you busy and working."
Q: What is something you feel most individuals may not know about your job role?
Tom: "It can be a headache at times. It's not as easy as it looks. There's a lot more to it than telling people what to do."
Q: What do you feel are the best characteristics of your team?
Tom: "My crew is like my family. They work very hard and they take pride in the work they put in."
A Job Well Done
Tom's role as Foreman comes with great responsibility of keeping his team safe, ensuring they return home to their families every night. This commitment to the safety of his team has earned Tom many recognitions and awards over the years. Tom's work ethic and dedication to safety have been recognized both within the company and externally. In 2015 and 2016, he was nominated to receive the Contractors Safety Award from Maryland Transportation Builders and Materials Association. In 2017, he received company recognition and awarded Foreman of the Year for Paving Division and Overall. As just one individual of a small group of recipients, Tom also received a gold watch in 2016 for his 25th anniversary with Reliable.
Thank you, Tom, for your dedication to Reliable and the commitment to keeping your crew safe.
Reliable appreciates every single one of our employees for the work and dedication they put in; without them, we wouldn't have our long-standing reputation to stand behind.
ABOUT RELIABLE CONTRACTING
Reliable is dedicated to delivering quality products, displaying professionalism within the firm, seeking new opportunities for expansion and profitability, and providing an environment for individual success. If you have a commercial or residential construction project that you need taken care of, please contact Anne Arundel County's largest site-work contractor today by calling 410-987-0313 or visiting our website. You can also follow Reliable Contracting on Facebook, LinkedIn, Pinterest, and Twitter!

Reliable Contracting Company serves the following and surrounding counties: Annapolis, Queen Anne's, Anne Arundel, Baltimore, Baltimore City, Calvert, Caroline, Charles, Howard, Prince George, St. Mary's, Talbot, and Washington D.C.