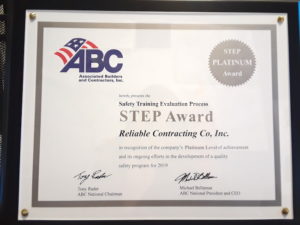 Associated Builders and Contractors is a trade association that represents workers in construction throughout the country, and they have listed Reliable Contracting as number eight in their Top Performers ranking for member contractors in the mid-Atlantic region. This honor is the latest in a long line of awards and commendations earned by Reliable's teams for their hard work and commitment to safety.
About ABC's Top Performers
Each year, ABC releases its list of Top Performers. These are member contractors who meet certain levels of safety, as defined by ABC's STEP Safety Management System. Contractors who meet the requirements of STEP Gold or higher are then ranked by the number of work hours completed for the previous year. Reliable was listed as eighth in the mid-Atlantic region, which encompasses Maryland, Delaware, Virginia, and Washington, D.C. This distinction not only signifies a busy year with a high number of work hours, but it also underscores Reliable's commitment to safety and employee health.
STEP Gold and the Road to Safer Construction
STEP Gold members must meet various safety standards, and Reliable is proud to meet these requirements. These criteria include having a company culture focused on accident prevention, employing leaders who are dedicated to safety, and following industry best practices for 24 different areas of construction safety management. Because of these strict requirements, ABC.org reports that STEP Gold members are 260% safer on average than the U.S. Bureau of Labor Statistics average for the construction industry.
Reliable's Commitment to Safety and Employee Wellbeing
As our track record shows, Reliable is dedicated to creating a safe working environment for our employees. The implementation of safety best practices, training programs, and effective company policy are just a few of the ways in which Reliable strives to foster a culture of safety awareness and accident prevention. While there is always room for improvement — especially when employee safety and wellbeing are involved — this result is an indicator that the management and crews at Reliable are making some positive choices and changes in terms of construction safety.
ABOUT RELIABLE CONTRACTING
Reliable is dedicated to delivering quality products, displaying professionalism within the firm, seeking new opportunities for expansion and profitability, and providing an environment for individual success. If you have a commercial or residential construction project that you need taken care of, please contact Anne Arundel County's largest site-work contractor today by calling 410-987-0313 or visiting our website. You can also follow Reliable Contracting on Facebook, LinkedIn, Pinterest, and Twitter!

Reliable Contracting Company serves the following and surrounding counties: Annapolis, Queen Anne's, Anne Arundel, Baltimore, Baltimore City, Calvert, Caroline, Charles, Howard, Prince George, St. Mary's, Talbot, and Washington D.C.