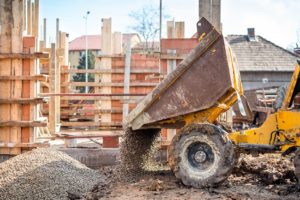 If you are a dump truck driver, you know how important safety is. Not only is your safety on the line when you work, but the wellbeing of others is also at risk. No matter what material you are dumping, it is essential that you stay alert and focused while on the job. Follow these four safety tips for dump truck drivers to make sure that you are doing everything you can to ensure a safe work environment.
1. Perform Daily Pre-Operation Inspections
Your dump truck is the most crucial tool in your arsenal, and it is vital to inspect it daily. Look for abnormal signs of wear, and try following an inspection routine to ensure that you do not miss anything. Tires are essential for any vehicle, but even more so for dump trucks. Check your tire pressure before any job, and make sure that your lights, hoses, and lift systems are functioning correctly. Not only will this give you peace of mind, but you can also catch any potential issues before they have the chance to cause accidents on the worksite.
2. Always Work With a Partner
It is always beneficial for employees to have a second set of eyes at work, and dump truck drivers are no exception. Always work with a partner who can help you navigate around the worksite. Some jobs require precise maneuvers in tight quarters, and a spotter for these situations is invaluable. A partner can also help you load and unload materials safely.
3. Load on Level Ground
Before taking on or unloading any materials, check the ground on which your truck will be parked. An unstable or uneven foundation can cause several severe safety issues for you, the crew, and potential bystanders. Aiming where your dump truck deposits its load is a challenge, but doing so on shaky ground can be almost impossible. Loading a vehicle on an unstable surface is similarly tricky; trucks can tip over or shift in the best of circumstances, and loading up on an angled or unstable surface can make the job even riskier.
4. Always Obey Weight Limits
Your truck has a weight limit, and the roads you will be traveling on may have limits as well. Make sure that you load your vehicle well within these limits to preserve the life of your dump truck and prevent damage or bodily harm as you work. You should also strive to load your truck as uniformly as possible to avoid accidents due to uneven weight distribution.
ABOUT RELIABLE CONTRACTING
Reliable is dedicated to delivering quality products, displaying professionalism within the firm, seeking new opportunities for expansion and profitability, and providing an environment for individual success. If you have a commercial or residential construction project that you need taken care of, please contact Anne Arundel County's largest site-work contractor today by calling 410-987-0313 or visiting our website. You can also follow Reliable Contracting on Facebook, LinkedIn, Pinterest, and Twitter!

Reliable Contracting Company serves the following and surrounding counties: Annapolis, Queen Anne's, Anne Arundel, Baltimore, Baltimore City, Calvert, Caroline, Charles, Howard, Prince George, St. Mary's, Talbot, and Washington D.C.