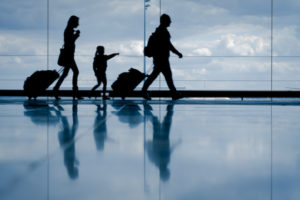 Airport construction is the bane of busy travelers everywhere. However, it creates an exciting and challenging puzzle for the contractors, government agencies, cities, and private companies that are involved with airport operations and construction. In this post-9/11 world, airports are one of the most highly regulated and secure areas that many private citizens encounter. An airport contractor and their collaborators must work together to ensure that all necessary security measures and procedures continue throughout construction. Read on to learn more about four basic strategies that help airport contractors maintain high security standards during airport construction.
1. Ensure Regulatory Compliance
When planning an airport construction project, planners and airport contractors should begin communication with the Transportation Security Administration and the Department of Homeland Security on day one. The TSA and DHS have numerous regulations and safety best practices that must be followed. Cooperating with these agencies can ensure that these requirements can be met before, during, and after construction.
2. Draft Action Plans for All Possible Emergencies
From a terrorist attack to a small accidental fire, any unforeseen accidents can stop a construction project in its tracks. Prevent a locked-down construction site and lost time by creating action plans for all potential incidents. The TSA, DHS, local police and fire agencies, and all other relevant parties must cooperate with the airport contractor to draft effective protocols for all possible incidents. Once these contingency plans are prepared, the airport contractor and staff must distribute these protocols to all necessary parties.
3. Create a Schedule to Minimize Traveler Interruption
When airports undergo construction, the public tends to take notice. Often, this construction draws very negative attention — just ask anyone who has flown through Los Angeles International. One way to prevent inconvenience for travelers is to stagger construction. Schedule tasks so that there are always a few restrooms, restaurants, and security checkpoints available in every area. Shutting down all bathrooms or seating areas in a terminal is a recipe for disaster. Disgruntled passengers can end up causing problems with airline staff, airport contractors, and more. When you are creating a schedule for your construction project, aim to keep things as close to normal as possible for airport staff and visitors. 
4. Use a Secure Document Storage System
With any construction project, paperwork such as blueprints, analyses, and invoices can become overwhelming. While the use of tablets on worksites has made certain aspects of record keeping and file sharing easier, airport contractors must make sure that their methods of document storage are secure. Plans for screening areas, detainment rooms, and more can be used for nefarious purposes if they fall into the wrong hands. If you use electronic methods of document storage for your airport construction project, be sure to use a system that allows you to encrypt and protect your files.
ABOUT RELIABLE CONTRACTING
Reliable is dedicated to delivering quality products, displaying professionalism within the firm, seeking new opportunities for expansion and profitability, and providing an environment for individual success. If you have a commercial or residential construction project that you need taken care of, please contact Anne Arundel County's largest site-work contractor today by calling 410-987-0313 or visiting our website. You can also follow Reliable Contracting on Facebook, LinkedIn, Pinterest, and Twitter!

Reliable Contracting Company serves the following and surrounding counties: Annapolis, Queen Anne's, Anne Arundel, Baltimore, Baltimore City, Calvert, Caroline, Charles, Howard, Prince George, St. Mary's, Talbot, and Washington D.C.