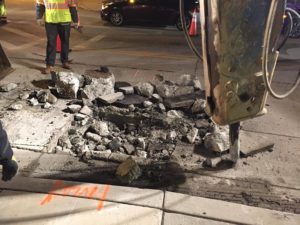 In September 2016, Reliable Contracting began work on an exciting project in downtown Baltimore City. The project consisted of completing sitework for the proposed site of Hampton Inn's new location on Eastern Avenue. The site has had a few structures on it in the past, including a warehouse, a factory, and several roadways. Reliable won the Hampton Inn Bayview contract and used technological innovation and hard work to complete the project on time. Although they were faced with challenges due to past construction and the human element of sitework, Reliable's crews were able to complete the project successfully.
The Human Element of Sitework
While Reliable's portion of the project was completed on time, it took a lot of creative problem solving and hard work to get there. At the start of the project, the site had to be converted from a homeless encampment to a safe and suitable construction site. Baltimore City officials worked to transfer the people living at the site into local shelters, while a hazmat team was called in to deal with the biohazardous material left behind. Once the site was clear of people, the real heavy lifting was just beginning.
Hidden Obstacles
Although the site looked clear on the surface, the real obstacles were hidden beneath the soil. Large swaths of abandoned road sections, railroad debris, unsuitable soils, and unmarked utilities were just some of the hazards that the sitework crew had to work around. Reliable's sitework professionals also had to adapt water and sewer force mains into the city system, carving into two-and-a-half-feet-thick concrete to do so. 
After the large pieces of debris were removed, Reliable encountered another hurdle: old timber road bridging and supports lay just beneath the newly-excavated area. The sitework crew removed the old debris and installed new stone bridge lifts to ensure that the area is suitable for future construction.
Despite these challenges, Reliable was able to not only finish their portion of the project on time, but they were able to do it without any safety incidents. This is due in large part to Reliable's commitment to excellence and safety in all projects.
Technological Advances in Sitework
Throughout the process of completing this project, Reliable utilized various pieces of technology to ensure that everything was going according to plan. Foremen were equipped with iPads on which they could log and monitor job progress, material orders, and cost analyses. This information was shared with management, who were able to see up-to-date figures, progress photos, and reports in real time. Due in part to these innovations, Reliable was able to foresee schedule changes, obstructions, and delays and work around them to ensure on-time completion of the project.
ABOUT RELIABLE CONTRACTING
Reliable is dedicated to delivering quality products, displaying professionalism within the firm, seeking new opportunities for expansion and profitability, and providing an environment for individual success. If you have a commercial or residential construction project that you need taken care of, please contact Anne Arundel County's largest site-work contractor today by calling 410-987-0313 or visiting our website. You can also follow Reliable Contracting on Facebook, LinkedIn, Pinterest, and Twitter!

Reliable Contracting Company serves the following and surrounding counties: Annapolis, Queen Anne's, Anne Arundel, Baltimore, Baltimore City, Calvert, Caroline, Charles, Howard, Prince George, St. Mary's, Talbot, and Washington D.C.