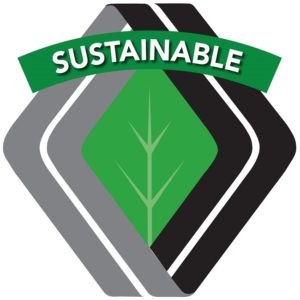 On June 18, 2019, the National Asphalt Pavement Association (NAPA) released a press statement announcing their recognition of Reliable Contracting for the operation of their Waugh Chapel Plant in Gambrills, Maryland. Reliable Contracting has earned NAPA's prestigious Diamond Achievement Commendation for Excellence in Asphalt Plant/Site Operations and the Diamond Achievement Sustainable Commendation. Both commendations highlight Reliable's dedication to supporting the community and minimizing the negative environmental impact of construction and asphalt operations.
Diamond Achievement Commendation for Excellence in Plant/Site Operations
The first commendation recognizes Reliable's commitment to excellence in community relations and responsible asphalt operations. The Waugh Chapel Plant, Reliable's own asphalt production plant, was assessed in five different areas before being awarded this commendation. These five areas are environmental practices, safety, operations, appearance, and community relations, and NAPA's commendation affirms Reliable's dedication to high performance and constant improvement in these areas at the Waugh Chapel Plant.
Diamond Achievement Sustainable Commendation
The Diamond Achievement Sustainable Commendation is an honor that is only available to recipients of the Diamond Achievement Commendation, and it underscores Reliable's commitment to using sustainable practices in operation and production. The Waugh Chapel Plant's practices were assessed in terms of their environmental, economic, and social impact. The fact that NAPA conferred this honor reaffirms Reliable's commitment to using green construction practices and reducing the impact of asphalt production and construction on local ecosystems.
Reliable's Dedication to Serving the Community and Reducing Negative Environmental Impact
NAPA Chairman John Harper said, "Earning the Diamond Achievement Commendation … clearly demonstrates a commitment to excellence with a community focus." For those familiar with Reliable, these words ring true. Most recently, Reliable employees collaborated with the Anne Arundel Workforce Development Corporation (AAWDC). Reliable Contracting has a long history of supporting local causes and organizations such as The Providence Center, Waugh Chapel area schools, Maryland Therapeutic Riding, Cheryl's Rescue Ranch, the Chesapeake Conservancy, and more.
In addition to supporting their community, Reliable has a history of making eco-friendly construction practices a priority. By using sustainable construction practices in various projects and helping optimize stormwater management systems, Reliable is working hard to keep Maryland green.
ABOUT RELIABLE CONTRACTING
Reliable is dedicated to delivering quality products, displaying professionalism within the firm, seeking new opportunities for expansion and profitability, and providing an environment for individual success. If you have a commercial or residential construction project that you need taken care of, please contact Anne Arundel County's largest site-work contractor today by calling 410-987-0313 or visiting our website. You can also follow Reliable Contracting on Facebook, LinkedIn, Pinterest, and Twitter!

Reliable Contracting Company serves the following and surrounding counties: Annapolis, Queen Anne's, Anne Arundel, Baltimore, Baltimore City, Calvert, Caroline, Charles, Howard, Prince George, St. Mary's, Talbot, and Washington D.C.