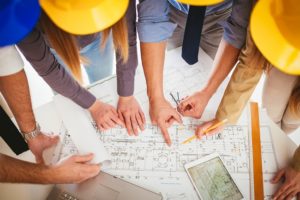 When beginning construction on any large project, having a quality sitework contractor is vital. Sitework preparation is crucial to starting your project out on the right foot, and inexperienced sitework contractors can doom your project before it even begins. Here are four of the many things that your sitework contractor will be responsible for during the beginning stages of your construction project.
1. Soil Testing
Before any construction can begin, your sitework contractor must have the soil tested. During this process, soil from different parts of the site is tested for composition. It goes without saying that buildings can be quite heavy, and an unstable foundation must be avoided at all costs. Qualities like particle shape, plasticity, clay content, and other factors determine whether or not the ground at a site will be stable enough for the project. If the soil is deemed unsuitable, your sitework contractor will have to determine what amendments can be added or what processes can be done to make the base of your project stable.
2. Clearing the Site
The next step in sitework is to clear the site of unwanted debris. This can include things from trees and shrubs to old buildings. Unwanted plants must be uprooted and structures must be torn down and disposed of properly. As in all parts of this process, your sitework contractor should be knowledgeable about how to safely demolish and dispose of construction materials.
3. Site Planning
During this phase, the plan for your building is developed in more concrete detail. Information from soil testing is used to better inform design choices. The plan will include things like parking for construction crews, irrigation and runoff systems for during and after construction, and more. An experienced sitework contractor will work with other planning professionals and consider all aspects of construction to make sure that all construction requirements are accounted for and that there are no surprises when it comes to bringing in or using large machinery.
4. Grading and Compaction
Once the plans are finalized, it is time for the sitework contractor to make sure that the foundation of the project is ready. To this end, the contractor will have the site graded and compacted. Grading ensures that your property has proper drainage and a stable foundation. An experienced sitework contractor knows that standing water is a building's enemy and that grading in a way that provides adequate drainage for the property is a necessity. After the site is graded, it must be compacted so that the earth underneath your structure is not loose and prone to sliding or sinking. This is essential to providing a stable foundation for your project.
ABOUT RELIABLE CONTRACTING
Reliable is dedicated to delivering quality products, displaying professionalism within the firm, seeking new opportunities for expansion and profitability, and providing an environment for individual success. If you have a commercial or residential construction project that you need taken care of, please contact Anne Arundel County's largest site-work contractor today by calling 410-987-0313 or visiting our website. You can also follow Reliable Contracting on Facebook, LinkedIn, Pinterest, and Twitter!

Reliable Contracting Company serves the following and surrounding counties: Annapolis, Queen Anne's, Anne Arundel, Baltimore, Baltimore City, Calvert, Caroline, Charles, Howard, Prince George, St. Mary's, Talbot, and Washington D.C.