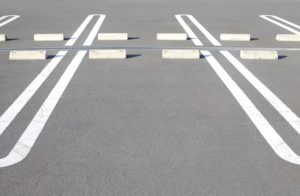 When running a business, business owners take on an immense amount of responsibility. It can be easy for some tasks to get lost in the shuffle of day-to-day operations. One thing that many business owners forget about is the importance of a well-striped parking lot. Parking lot paint degrades over time, leaving lines faint or missing. In addition to making your business look run-down, faded or missing parking lot lines can cause accidents or safety issues. Read on to discover what factors dictate how often you need parking lot striping.
Weather
While bright, sunny weather can fade paint over time, sunshine is the least of your parking lot's worries. Snow (and deicing products) are the real culprit to watch for. Salt, which is often used in ice and snow melt, hastens the degradation of parking lot paint. If your parking lot sees its fair share of snow and ice each year, you may need to use parking lot striping services more often than the recommended once per year. Regardless of your climate, you should pay attention to how quickly your paint fades from month to month. If half of the paint or more has faded away, it's time for parking lot striping.
Paint
The type of paint used previously will determine when you need to restripe your parking lot. Thicker paint with multiple coats can last up to a year, but fewer coats or thinner paint will not last as long. Keep track of what types of paint you have used in the past and see how long it takes to fade. It may be worth it to stripe with more layers.
Traffic
How much regular business does your property get? If your parking lot is constantly full and busy, your paint will fade much faster than if you get very little traffic.
Most Importantly: How Does it Look?
It is helpful to know if your parking lot has any of the risk factors for a rapidly-fading paint job, but the most important thing to look at is your parking lot itself. If the lines still look great despite your exposure to snow and heavy traffic, there is likely no need to repaint them. If your lines are hardly visible despite your low traffic and fair weather, you should have your parking lot striped. Keep an eye on your stripes, and have them repainted when necessary to keep your business looking sharp!
ABOUT RELIABLE CONTRACTING
Reliable is dedicated to delivering quality products, displaying professionalism within the firm, seeking new opportunities for expansion and profitability, and providing an environment for individual success. If you have a commercial or residential construction project that you need taken care of, please contact Anne Arundel County's largest site-work contractor today by calling 410-987-0313 or visiting our website. You can also follow Reliable Contracting on Facebook, LinkedIn, Pinterest, and Twitter!

Reliable Contracting Company serves the following and surrounding counties: Annapolis, Queen Anne's, Anne Arundel, Baltimore, Baltimore City, Calvert, Caroline, Charles, Howard, Prince George, St. Mary's, Talbot, and Washington D.C.