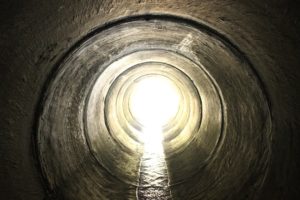 Storm drains are vital to managing stormwater runoff on commercial properties and in residential areas alike. When heavy rains occur, all of that water needs somewhere to go. Storm drains collect runoff and divert it to local streams and waterways. Without the proper infrastructure, stormwater runoff can cause flooding, damage property, and even threaten lives. As such, it is crucial that you maintain your property's storm drains so that they can function properly when storms hit. Read on to discover the threats to your storm drain and how you can address them.
1. Clogged Storm Drain Pipes or Grates
Clogs are one of the most common threats to a healthy storm drain. Trash, tree branches, dead animals, and other debris can impede or even halt the flow of water through grates or pipes, causing backups. When water is not able to flow through the pipes of a storm drain, it can instead flow into areas of your property that are not designed to withstand that much water, causing water damage to buildings.
2. Damaged Pipes
Pipes that are cracked, corroded, or otherwise damaged can prevent runoff from reaching local streams and waterways. Instead of reaching its intended destination, the water leaches into the ground around the pipes. This can cause erosion of the surrounding soil and water damage to nearby buildings. Soil erosion can also cause structural problems for buildings on slopes. Even a small leak from a damaged pipe can cause substantial structural problems for the storm drain and surrounding structures.
3. Small Pipes
Having the correct pipe size is key to having a functioning storm drain. Even when they are immaculately cleaned and maintained, pipes that are too small do not allow enough water to flow through the system, causing backups and flooding. If small pipes might be the culprit of your ineffectual storm drain, call a storm drain professional. They can assess the system and see if a different gauge of pipe must be installed or if another solution can be implemented.
Reliable Contracting Can Help
Reliable Contracting specializes in building and maintaining various types of stormwater management systems, including storm drains, bioswales, and retention and detention ponds. Whether your storm drain is experiencing reduced flow or has stopped moving water altogether, the professionals at Reliable Contracting can help.
ABOUT RELIABLE CONTRACTING
Reliable is dedicated to delivering quality products, displaying professionalism within the firm, seeking new opportunities for expansion and profitability, and providing an environment for individual success. If you have a commercial or residential construction project that you need taken care of, please contact Anne Arundel County's largest site-work contractor today by calling 410-987-0313 or visiting our website. You can also follow Reliable Contracting on Facebook, LinkedIn, Pinterest, and Twitter!

Reliable Contracting Company serves the following and surrounding counties: Annapolis, Queen Anne's, Anne Arundel, Baltimore, Baltimore City, Calvert, Caroline, Charles, Howard, Prince George, St. Mary's, Talbot, and Washington D.C.