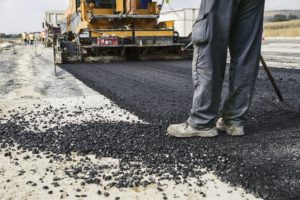 There are a few different kinds of asphalt paving, but how can you find out which is best for your project? There are three main types of asphalt paving that are commonly used: hot mix asphalt (HMA), warm mix asphalt (WMA), and cold mix asphalt (CMA). Read on to discover the basics of asphalt paving varieties and learn which to consider for your next project.
Hot Mix Asphalt Paving
Hot mix asphalt is the most common type of asphalt used today. It consists of asphalt and aggregate minerals which are heated to 280 – 325 degrees Fahrenheit. The mixture is spread while extremely hot and cannot be allowed to cool too quickly, which can limit the seasons and regions for which its use is feasible. Despite these limitations, its strength makes hot mix asphalt the most popular choice.
Warm Mix Asphalt Paving
Warm mix asphalt is the most environmentally friendly of the three asphalt mix types listed here. It is similar to hot mix asphalt, but it is spread at 200 – 250 degrees Fahrenheit. The cooler temperature allows the mix to be transported farther or to be used in cooler seasons. In addition, warm mix asphalt uses fewer petroleum products and creates fewer airborne worker health hazards when poured. Warm mix asphalt accounts for roughly 30 percent of all asphalt paving.
Cold Mix Asphalt Paving
Cold mix asphalt is usually used for fixing potholes or other patchwork. It contains a blend of additives that allows it to be mixed and poured cold. While cold mix asphalt can be spread during almost any season within a wide range of distances, it is also the weakest of the three asphalt paving mix types.
Sourcing Our Asphalt
Reliable Contracting is able to provide single-source asphalt paving materials for your project. Reliable runs two asphalt plants locally in Anne Arundel County and offers asphalt production, installation, and custom mix services. Reliable is dedicated to helping minimize negative environmental impact whenever possible and stands by this commitment by using recycled asphalt and concrete for base materials, burning recycled oil for fuel, and installing warm mix asphalt.
ABOUT RELIABLE CONTRACTING
Reliable is dedicated to delivering quality products, displaying professionalism within the firm, seeking new opportunities for expansion and profitability, and providing an environment for individual success. If you have a commercial or residential construction project that you need taken care of, please contact Anne Arundel County's largest site-work contractor today by calling 410-987-0313 or visiting our website. You can also follow Reliable Contracting on Facebook, LinkedIn, Pinterest, and Twitter!

Reliable Contracting Company serves the following and surrounding counties: Annapolis, Queen Anne's, Anne Arundel, Baltimore, Baltimore City, Calvert, Caroline, Charles, Howard, Prince George, St. Mary's, Talbot, and Washington D.C.