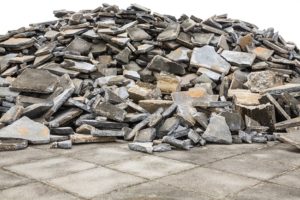 Using recycled aggregate for construction projects is touted as a great way to save on cost, get LEED points, and "go green," but how does concrete recycling actually help the environment? As it turns out, recycling concrete and other construction materials for use in future projects can help the planet in a few different ways. By having old asphalt and concrete recycled instead of sent to a landfill, you can reduce your site's carbon footprint in three distinct ways. Not only will this save your project money, but you can also rest easy knowing that you have done your best to protect our ecosystems. Here are three ways that concrete recycling helps reduce your project's negative environmental impact.
Concrete Recycling Keeps Material Out of Landfills
When buildings, sidewalks, and other concrete features are demolished or renovated due to wear, the old concrete is usually broken up and sent to a landfill. Large urban and suburban areas like Baltimore, Washington, D.C., and the surrounding towns and cities create an unbelievably immense amount of waste. This waste, when not recycled, reused, or composted, makes its way to any number of local landfills. While their capacity is usually enormous, landfills do eventually fill up. With landfills filling up faster than we can build them and harmful leachates, methane gas, and other pollutants being released into the environment, some argue that the United States is in the midst of a landfill crisis. Keeping recyclable materials like used concrete out of landfills can help slow the progression of this problem.
Recycling Reduces Greenhouse Gas Emissions From Transportation
Concrete recycling reduces greenhouse gas emissions in a variety of ways. During demolition projects, recycled concrete can sometimes be used nearby or on the same site as an aggregate for a new pour, eliminating or reducing emissions from transportation. Recycled concrete is often lighter than virgin aggregate, so transporting it can increase fuel efficiency compared with hauling new materials to a site. Also, recycled aggregate can be closer to the construction site than a quarry that produces new aggregate materials.
Concrete Recycling Helps Preserve Natural Aggregate Resources
Because recycled concrete can take the place of mined materials in many projects, concrete recycling can help preserve our planet's natural mineral resources. Recycled concrete can take the place of aggregate in new concrete projects and be used in marine, landscaping, and construction applications. The positive impact of concrete does not end there. Recycled concrete is often broken up into riprap and used to stabilize shorelines and prevent erosion, preserving beaches and other mineral deposits and ecosystems.
ABOUT RELIABLE CONTRACTING
Reliable is dedicated to delivering quality products, displaying professionalism within the firm, seeking new opportunities for expansion and profitability, and providing an environment for individual success. If you have a commercial or residential construction project that you need taken care of, please contact Anne Arundel County's largest site-work contractor today by calling 410-987-0313 or visiting our website. You can also follow Reliable Contracting on Facebook, LinkedIn, Pinterest, and Twitter!

Reliable Contracting Company serves the following and surrounding counties: Annapolis, Queen Anne's, Anne Arundel, Baltimore, Baltimore City, Calvert, Caroline, Charles, Howard, Prince George, St. Mary's, Talbot, and Washington D.C.