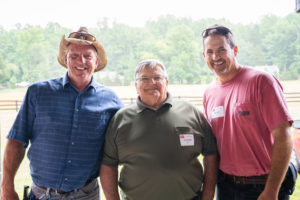 On June 9th, Reliable Contracting held a barbecue for employees and their families. Reliable's 2019 Bull & Oyster Roast was an opportunity for employees to eat good food, be recognized for their hard work over the last year, and have fun with their families and coworkers. Although there were brief periods of rain, many guests showed up for the festivities and had a blast. Celebrating our workers and showing gratitude to them and their families is essential — without our employees, we wouldn't be Reliable.
Special Awards
In addition to the employees and foremen of the year in each division, a few other employees were awarded and recognized for their hard work. Three additional awards were given at the Bull & Oyster Roast. Tanner Craig, a current employee in the project management department, was awarded a certificate for completing Reliable's management training program. President Jay Baldwin presented this certificate as well as another award; the President's Award is given to an employee who shows outstanding dedication and commitment to their work. The 2018 President's Award was presented to Bob Carrier, Reliable's Safety Director, for his hard work in improving the company's training and safety operations practices. The winner of the final award was selected by the Bull & Oyster Roast's attendees. Tom Peterson won best in show in the photo contest. His picture of the College Park Airport runway was a crowd favorite.
Work Anniversaries at Reliable Contracting
Reliable Contracting has been a family business for 90 years, and some of our employees have been with the family for a long time. Employees who celebrated their tenth, twentieth, twenty-fifth, thirtieth, thirty-fifth, and fortieth anniversaries with the company were recognized and celebrated. One person was able to celebrate their fiftieth year as part of the Reliable family: Keith Pumphrey has been a valuable employee at Reliable Contracting for half of a century.
Showing Off Our New Training RV
The new Reliable Mobile Training RV was parked in the background of all of the fun. The RV, which has a decorative wrap detailing the timeline of the company as well as a visual progression of Reliable's work trucks from 1928 to the present, is a multipurpose vehicle. Crew training, employee recognition, job fairs, touch-a-truck shows — you name it, and Reliable will be there with our Mobile Training RV!
ABOUT RELIABLE CONTRACTING
Reliable is dedicated to delivering quality products, displaying professionalism within the firm, seeking new opportunities for expansion and profitability, and providing an environment for individual success. If you have a commercial or residential construction project that you need taken care of, please contact Anne Arundel County's largest site-work contractor today by calling 410-987-0313 or visiting our website. You can also follow Reliable Contracting on Facebook, LinkedIn, Pinterest, and Twitter!

Reliable Contracting Company serves the following and surrounding counties: Annapolis, Queen Anne's, Anne Arundel, Baltimore, Baltimore City, Calvert, Caroline, Charles, Howard, Prince George, St. Mary's, Talbot, and Washington D.C.