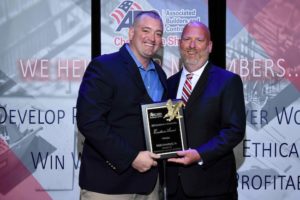 On Thursday, September 19th, the Chesapeake Shores Chapter of Associated Builders and Contractors, Inc. held their annual Excellence in Construction and Safety Awards banquet. At this banquet, Reliable Contracting was honored with two distinguished awards. The awards, which were accepted by TJ Beamer on behalf of Reliable, were given based on Reliable's continued dedication to training and safety as well as the work on the Hampton Inn Bayview sitework project. The STEP Platinum Award and the 2019 Excellence Award acknowledge the challenging and important work that employees at Reliable Contracting have been doing this year.
STEP Platinum Award
One of the accolades given to Reliable by ABC Chesapeake Shores was the STEP Platinum Award. The STEP Award (which is short for Safety Training Evaluation Process) is given to contractors who make considerable efforts to improve their safety and training practices. The receipt of this award serves to underscore Reliable's long-standing dedication to excellence in safety and training. Earlier this year, the National Asphalt Pavement Association awarded Reliable with two commendations, one of which was due in part to Reliable's commitment to safety and operations. The Reliable Mobile Training RV is just one of the many tools that Reliable uses to ensure that all of our employees have the training and safety information necessary to work safely.
2019 Excellence Award (Commercial: Less Than $5 Million)
In a previous blog, we showcased the exciting and forward-thinking ways that Reliable employees scheduled, monitored, and completed sitework for the new Hampton Inn Bayview. Because of the innovative technologies and programs used for scheduling, productivity, and quality control, ABC Chesapeake Shores voted to award Reliable Contracting with the 2019 Excellence Award in the Commercial: Less Than $5 Million category. This Excellence in Construction Award was also bestowed based on innovative value analysis and engineering processes as well as challenges and obstacles faced during the project.
Going Forward
Reliable received the STEP Platinum Award and the 2019 Excellence Award due in no small part to the hard work and dedication of our employees. As a company, Reliable places extraordinary value on safety, sustainable construction practices, high-quality work, and community relations. While being recognized for these values is rewarding, the real proof of Reliable's commitment is not in trophies or plaques, but in the work that our teams do every day.
ABOUT RELIABLE CONTRACTING
Reliable is dedicated to delivering quality products, displaying professionalism within the firm, seeking new opportunities for expansion and profitability, and providing an environment for individual success. If you have a commercial or residential construction project that you need taken care of, please contact Anne Arundel County's largest site-work contractor today by calling 410-987-0313 or visiting our website. You can also follow Reliable Contracting on Facebook, LinkedIn, Pinterest, and Twitter!

Reliable Contracting Company serves the following and surrounding counties: Annapolis, Queen Anne's, Anne Arundel, Baltimore, Baltimore City, Calvert, Caroline, Charles, Howard, Prince George, St. Mary's, Talbot, and Washington D.C.