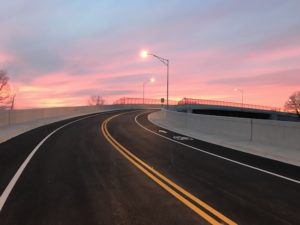 Have you ever wondered how much it costs to create a new road? While some folks like government officials and construction industry professionals work on these projects daily and are familiar with the costs, the average person has no clue what goes into the budget for a new road. In this week's blog, we will discuss a few of the expenses that highway contractors, government staff, and others must consider when planning a new road construction project.
Hiring Highway Contractors and Crews
Labor is a considerable expense in new highway construction, and the costs do not stop with pavers and truck drivers. Architects, engineers, and site contractors are just a few of the additional staff that makes up the labor force behind most roadways, and specialty projects can require even more planners, engineers, and experts. Along with hourly rates and salaries come HR expenses, PPE, and other overhead costs. While these figures can seem daunting, remember that the job your crew does now can set your road up for either success or failure in the future. While a cheap highway contractor might seem like a great deal, maintenance and repair costs for a poorly-installed road can be excessive. 
Materials Costs
Materials can have a wide range of costs-per-mile depending on the project. Renovating an old road is often much cheaper than constructing an entirely new one, and rough terrain is typically more expensive to transform than flat, stable ground. The type of road you are making, the amount of traffic expected, and, of course, the length of the road are all factors that dictate the final cost of your project's materials. However, just like paying for high-quality labor, investing in better materials at installation can reduce maintenance costs in the long run.
Maintenance and Upkeep
Spending does not stop when the project is completed. Even after regular traffic flows on your sparkly new roadway, maintenance costs are just beginning to stack up. Restriping, sealcoating, and repairing potholes are just a few of the costly maintenance needs that you will have to address over the lifetime of your road. Recruiting a highway contractor that provides top-notch service is paramount for repairs. The experts at Reliable Contracting work hard to install roadways and make repairs that last, creating safer roads for us all.
ABOUT RELIABLE CONTRACTING
Reliable is dedicated to delivering quality products, displaying professionalism within the firm, seeking new opportunities for expansion and profitability, and providing an environment for individual success. If you have a commercial or residential construction project that you need taken care of, please contact Anne Arundel County's largest site-work contractor today by calling 410-987-0313 or visiting our website. You can also follow Reliable Contracting on Facebook, LinkedIn, Pinterest, and Twitter!

Reliable Contracting Company serves the following and surrounding counties: Annapolis, Queen Anne's, Anne Arundel, Baltimore, Baltimore City, Calvert, Caroline, Charles, Howard, Prince George, St. Mary's, Talbot, and Washington D.C.