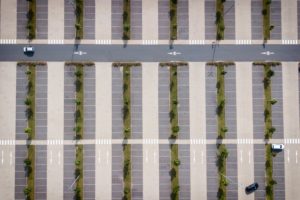 Whether you're responsible for a small access road, a massive parking lot, or a multi-lane highway, your pavement's stripes and markings are incredibly important. Faded lines can create confusion, give a poor first impression, and even cause accidents. Regardless of the size of your pavement, road striping is an essential service for the upkeep of your property. In this week's blog, we will discuss some common pavement markings, safety concerns caused by faded lines, and benefits of road striping.
Different Types of Marks
Many properties with asphalt surfaces have markings, and road striping creates more of these markings than you might think. Crosswalks, parking spaces, and stop bars are all ubiquitous marks that can be refreshed with road striping. Curb striping can indicate a few different things. Red is typically used to mark fire lanes, and a variety of colors can be used to point out loading zones, handicapped zones, and other specialized areas. All of these lines experience wear at different rates depending on the type and volume of traffic. While it may seem like your development's crosswalk or curb markings will last forever, road striping services from Reliable Contracting can help your markings stay clear.
Benefits of Road Striping
Road striping is a crucial way for property owners to invest in their asphalt. Clear, freshly-painted lines can dramatically increase your property's visual appeal. Faded lines can make your property look run-down and neglected, which can decrease your curb appeal and discourage business. Clear road striping can more effectively communicate guidelines for vehicle and pedestrian traffic, making it essential for busy parking structures, complex intersections, and loading zones.
Road Striping for Safety
Besides improving your surface's appearance, refreshing your asphalt's lines can also make your property much safer. Faded lines on roads, especially those with high-speed traffic, can be incredibly dangerous. Vehicles on multi-lane roadways must know where their lanes start and end, and clear lines are essential. Clear markings are also important in low-speed areas. An unclear crosswalk can be challenging to see while driving, potentially leading to accidents. Delineated curb striping is vital for fire lanes and loading zones. This is particularly true in places like hospitals or loading docks, where time is of the essence and vehicles are constantly passing through. If the markings on your asphalt are starting to fade, don't wait. Contact the experts at Reliable Contracting today to learn about road striping and other asphalt maintenance services.
ABOUT RELIABLE CONTRACTING
Reliable is dedicated to delivering quality products, displaying professionalism within the firm, seeking new opportunities for expansion and profitability, and providing an environment for individual success. If you have a commercial or residential construction project that you need taken care of, please contact Anne Arundel County's largest site-work contractor today by calling 410-987-0313 or visiting our website. You can also follow Reliable Contracting on Facebook, LinkedIn, Pinterest, and Twitter!
Reliable Contracting Company serves the following and surrounding counties: Annapolis, Queen Anne's, Anne Arundel, Baltimore, Baltimore City, Calvert, Caroline, Charles, Howard, Prince George, St. Mary's, Talbot, and Washington D.C.