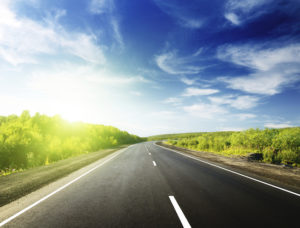 As we have discussed in previous blogs, there are a few different types of asphalt paving methods. Contractors use these asphalt mixes for roadways, parking lots, and other projects. One of these types, warm mix asphalt, is lauded as an environmentally-friendly paving option, particularly for projects that require more flexibility in terms of location and climate. This material is spread at a lower temperature than hot mix asphalt, which is one of the main environmental benefits of the method. In this week's blog, we will discuss some of the benefits of warm mix asphalt. Read on and consider using it for your next project.
Reduced Energy Consumption
There are many different ways in which warm mix asphalt helps reduce a project's negative environmental impact. Production plants often expend less energy to create warm mix compared to traditional pavements. Warm mix asphalt is not kept as hot as hot mix asphalt. Not only does this reduce the energy used to keep the material warm, but it also widens the range of temperatures and locations that contractors can use the substance. During manufacturing, warm mix asphalt uses fewer petroleum products than other iterations. Another environmental benefit: this method releases fewer harmful vapors than traditional pavements, reducing the risk of construction crews and limiting the project's carbon footprint.
Warm Mix Asphalt is Often More Budget-Friendly
Green construction practices can result in cheaper material costs, since reusing and recycling materials when possible is often a cheaper option. This is especially true for warm mix asphalt, which is often less expensive than hot mixes due to its ability to be spread in a wider range of weather conditions. This creates less pressure on asphalt paving contractors to pave during their busy season. 
Benefits of Green Construction Practices
While the obvious benefit of green construction practices is a more stable and habitable planet, there are a few smaller-scale perks as well. Projects that use green methods can pique the interest of folks like tenants, investors, and the press. This can give you access to more capital. Also, keeping track of your project's environmentally-friendly construction practices can help garner recognition. Some accolades come with financial incentives for being eco-friendly. Warm mix asphalt can help contribute to your project's LEED points. Some regions, including Maryland, actually require LEED certification for certain newly-constructed buildings.
ABOUT RELIABLE CONTRACTING
Reliable is dedicated to delivering quality products, displaying professionalism within the firm, seeking new opportunities for expansion and profitability, and providing an environment for individual success. If you have a commercial or residential construction project that you need taken care of, please contact Anne Arundel County's largest site-work contractor today by calling 410-987-0313 or visiting our website. You can also follow Reliable Contracting on Facebook, LinkedIn, Pinterest, and Twitter!

Reliable Contracting Company serves the following and surrounding counties: Annapolis, Queen Anne's, Anne Arundel, Baltimore, Baltimore City, Calvert, Caroline, Charles, Howard, Prince George, St. Mary's, Talbot, and Washington D.C.