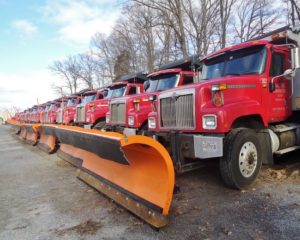 Although there have been a few warm spells in Maryland lately, November is upon us, and winter is looming. Experienced folks know that a plan for commercial snow removal is a must, but why is that, exactly? Well, many safety problems can occur with insufficient snow removal. Besides the potential for liability concerns, a snowy property often discourages business and is a hassle for guests. Here are a few potential consequences of neglecting commercial snow removal and what you can do to take care of your property this winter.
Safety and Liability Issues
The biggest concern for commercial properties that neglect their snow removal is the increased likelihood of physical accidents on the premises. If people slip and hurt themselves on your property because you neglected your facility's upkeep, it is quite likely that you will be found liable. Sidewalks, roadways, staircases, and other surfaces that carry traffic must be kept clear and safe after snow has fallen. Moreover, a professional snow removal crew is essential. When you direct an employee to remove snow from your property, you could be opening yourself up to even more liability issues. Commercial snow removal helps ensure that you provide a safe environment for your employees and guests, all without risking the safety of your staff.
Snow Leads to Decreased Guest Comfort and Traffic
Would you be eager to trudge through a snowy parking lot to spend money? Many shoppers would not be. Keeping your property clear and accessible is not only safe, but it is also good for business. Walkways and roads that have been adequately cleared do not discourage traffic as icy ones do. Guests are much more likely to stick around and spend money when they feel that they can walk around your property safely.
Choose Reliable for Commercial Snow Removal
While it has not snowed yet this season, an ounce of prevention is worth a pound of cure. When it comes to snow, having a working relationship with your commercial snow removal experts before it snows is an incredible asset. Not only will you know exactly who to call when your sidewalks and roads need clearing, but they may also be able to help you plan and execute preventative measures such as the application of ice melt. The experienced professionals at Reliable Contracting have been serving clients in Maryland and Washington, D.C. for over 90 years. Contact us today to learn more about our commercial snow removal services.
ABOUT RELIABLE CONTRACTING
Reliable is dedicated to delivering quality products, displaying professionalism within the firm, seeking new opportunities for expansion and profitability, and providing an environment for individual success. If you have a commercial or residential construction project that you need taken care of, please contact Anne Arundel County's largest site-work contractor today by calling 410-987-0313 or visiting our website. You can also follow Reliable Contracting on Facebook, LinkedIn, Pinterest, and Twitter!

Reliable Contracting Company serves the following and surrounding counties: Annapolis, Queen Anne's, Anne Arundel, Baltimore, Baltimore City, Calvert, Caroline, Charles, Howard, Prince George, St. Mary's, Talbot, and Washington D.C.