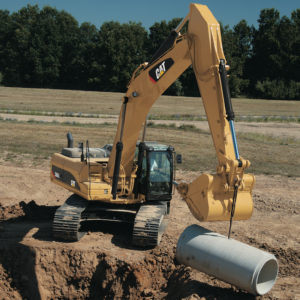 Excavation contractors play an essential role in virtually every construction project, and they are responsible for many aspects of a project in its early stages. Foundations, roads, and landscaping features all require excavation to some degree, and hiring an experienced contractor with a capable team is crucial to the success of your project. In this week's blog, we will go over a few of the key responsibilities of excavation contractors.
1. Site Management
Site management is a crucial part of early construction work, and your excavation contractor must ensure that the site's entrances, roads, and other areas are properly designed and safe for use. Your contractor must pay close attention to your site's safety and infrastructure needs throughout the project, making sure that the excavation team has the transportation framework and tools necessary to complete their work safely. An accident or on-site transportation issue can stop work in its tracks. Still, an experienced excavation contractor will have a better idea of what issues to anticipate and how to resolve them quickly and safely.
2. Erosion Control and Utilities Management
The management and monitoring of utilities and erosion are crucial for the safety and success of a construction project. Erosion control is paramount during excavation, especially in places like Maryland that are prone to wet, severe, and erratic weather conditions. Stormwater management and proactive drainage practices can help prevent severe erosion, which can halt progress on a worksite. Similarly, the proper detection, labeling, and protection of gas lines, water mains, and other utilities are vital to ensure a safe and productive work environment.
3. Professionalism and Communication
Just like any other professional, excavation contractors must operate with a high degree of professionalism, courtesy, and effective communication in their daily work. Excavation contractors and their teams often work with many parties during a project, and keeping things professional, organized, and clear-cut can ensure that everyone involved is able to meet deadlines and work together effectively. At Reliable Contracting, our employees are committed to providing high-quality service, working with professionalism, and delivering excellence in every project. If you need an experienced excavation contractor for your next project, contact the experts at Reliable Contracting today!
ABOUT RELIABLE CONTRACTING
Reliable is dedicated to delivering quality products, displaying professionalism within the firm, seeking new opportunities for expansion and profitability, and providing an environment for individual success. If you have a commercial or residential construction project that you need taken care of, please contact Anne Arundel County's largest site-work contractor today by calling 410-987-0313 or visiting our website. You can also follow Reliable Contracting on Facebook, LinkedIn, Pinterest, and Twitter!

Reliable Contracting Company serves the following and surrounding counties: Annapolis, Queen Anne's, Anne Arundel, Baltimore, Baltimore City, Calvert, Caroline, Charles, Howard, Prince George, St. Mary's, Talbot, and Washington D.C.