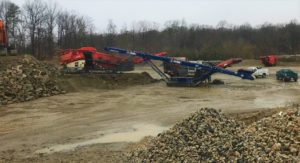 While green construction practices are an excellent way to help the planet, they can also make construction more efficient and cost-effective. Concrete recycling is one such practice that has wide-reaching benefits. When dismantling old concrete structures, conventional methods used to consist of two options: dispose of the unwanted concrete or design your project to work around it. With advances and changes in construction practices and technology, we can now recycle concrete into usable aggregate. Read on to learn more about the basics of concrete recycling.
How Does Concrete Recycling Work?
Rather than breaking up old concrete and hauling it off to a landfill, concrete recycling entails breaking the concrete into more manageable pieces, transporting it to a nearby recycling facility, and crushing it into usable aggregate. From there, contractors can use this recycled aggregate in place of virgin materials in various applications. The experts at Reliable's Waugh Chapel Asphalt Plant and Aggregate Recycling Facility strive to create cost-effective and environmentally-friendly materials for use in a plethora of projects in and around Baltimore and Washington, D.C.
Benefits of Creating and Using Recycled Aggregate
There are so many positive effects of recycling concrete and using recycled aggregates that it should be standard practice for nearly every project. Recycling concrete and reusing it in place of virgin materials is often cheaper than sending rubbish to a landfill and purchasing new aggregate. This cost savings is substantial, and it is usually reason enough on its own for contractors and decisionmakers to make the switch. Additionally, concrete recycling helps the environment by reducing your project's transportation emissions and negative impact on natural resources. While helping the planet is its own reward, using green construction practices can also have a positive influence on a project's reception and reputation.
Uses for Recycled Aggregate
If you are wondering how to incorporate recycled concrete into your next project, look no further! There are plenty of ways to use materials from Reliable in your construction endeavors. Recycled concrete aggregate is often used as backfill or subbase material for roads, driveways, and more. Different sized pieces can be used to stabilize a site, create fill sand, or act as aggregate in new concrete. With help from the experts at Reliable Contracting, you can bring all of the benefits of concrete recycling to your construction projects. Contact us today to learn more!
ABOUT RELIABLE CONTRACTING
Reliable is dedicated to delivering quality products, displaying professionalism within the firm, seeking new opportunities for expansion and profitability, and providing an environment for individual success. If you have a commercial or residential construction project that you need taken care of, please contact Anne Arundel County's largest site-work contractor today by calling 410-987-0313 or visiting our website. You can also follow Reliable Contracting on Facebook, LinkedIn, Pinterest, and Twitter!
Reliable Contracting Company serves the following and surrounding counties: Annapolis, Queen Anne's, Anne Arundel, Baltimore, Baltimore City, Calvert, Caroline, Charles, Howard, Prince George, St. Mary's, Talbot, and Washington D.C.