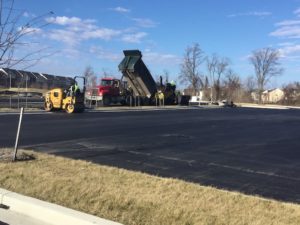 With many parts of Maryland getting their first real snow of the season, folks are starting to get back into the swing of winter maintenance and safety. While knowing how to de-ice and defrost your car correctly is essential for vehicle safety, asphalt paving maintenance and upkeep are equally critical in keeping Marylanders safe on our roads. Keep reading to learn more about the effects of winter weather on asphalt paving, as well as some of the ways that contractors can help keep pavement strong and healthy.
Rain, Snow, and Ice on Asphalt Paving
You have probably heard about how a chip in your car's windshield can get bigger in the winter due to water seeping into the crack, freezing, and expanding. This same principle holds true for asphalt paving. If you have a stretch of road, sidewalk, or parking lot that is already worn, cracked, or pitted, your surface will likely deteriorate even further throughout the season. A surface that is already worn down is particularly vulnerable to moisture and cold weather, so staying on top of resurfacing and sealcoating is crucial.
UV Rays
While most people do not think of sunlight as a factor of harsh winter weather, the ultraviolet radiation that the sun exudes can cause your asphalt paving to age and wear more quickly. The sun's UV rays keep shining all winter long, causing your asphalt's sealcoat to deteriorate and its binders to weaken. While a simple lightening of the color of your surface is one side effect, more severe damage can occur if your asphalt is left vulnerable.
Prevent Asphalt Paving Damage with Reliable
Winter can be a tough time on your asphalt, but it doesn't have to be. The experts at Reliable Contracting have been installing and maintaining high-quality asphalt products in Maryland for over ninety years, so our teams know a thing or two about preventative maintenance. Sealcoating your pavement can help keep water, ice, and UV rays from wreaking havoc and causing fissures, cracks, and more. Road and parking lot striping creates bold lines and symbols on your asphalt, safely instructing drivers and pedestrians about traffic patterns. Sealing cracks and potholes is essential for keeping drivers safe and preventing even further deterioration. From lot resurfacing to sealcoating, Reliable does it all.
ABOUT RELIABLE CONTRACTING
Reliable is dedicated to delivering quality products, displaying professionalism within the firm, seeking new opportunities for expansion and profitability, and providing an environment for individual success. If you have a commercial or residential construction project that you need taken care of, please contact Anne Arundel County's largest site-work contractor today by calling 410-987-0313 or visiting our website. You can also follow Reliable Contracting on Facebook, LinkedIn, Pinterest, and Twitter!
Reliable Contracting Company serves the following and surrounding counties: Annapolis, Queen Anne's, Anne Arundel, Baltimore, Baltimore City, Calvert, Caroline, Charles, Howard, Prince George, St. Mary's, Talbot, and Washington D.C.