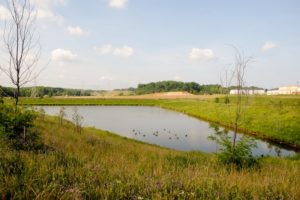 Stormwater mitigation is essential in places like Maryland. With the combination of frequent precipitation, urban and suburban development, and delicate natural ecosystems, the management of stormwater and surface runoff is both a complex science and a necessity. One of the ways that property owners and municipalities in Maryland manage their stormwater is through the use of bioretention ponds. These basins collect and store rainwater and surface runoff to prevent pollutants from entering local waterways. Keep reading to learn more about the benefits, varieties, and maintenance needs of bioretention ponds in Maryland, and be sure to contact Reliable Contracting for all of your installation, retrofitting, and maintenance projects!
Benefits of Bioretention
There are many different types of bioretention facilities in use today, including bioretention ponds, rain gardens, bioswales, and coastal plain outfalls. Each of these facilities has its strengths and weaknesses, and the type of bioretention measures you decide on will depend on the specifics of your property and the surrounding environment. Although each of these bioretention facilities can look drastically different, they all serve the same purpose: to capture stormwater and prevent pollutants in the runoff from negatively impacting local ecosystems. By keeping large amounts of stormwater out of our local waterways, bioretention ponds and similar facilities help reduce the adverse effects of flooding, erosion, and pollution.
Bioretention Ponds vs. Rain Gardens
Bioretention ponds and rain gardens are two very similar landscape features that capture runoff, and their differences are mainly in terms of scale. Both typically utilize plants to assist in the absorption and filtration of stormwater, but bioretention ponds are often designed with additional drainage and filtration systems. Layers of materials like mulch, gravel, and soil are specially designed to filter out pollutants and unwanted materials before the stormwater can reach local waterways. Unlike bioretention ponds, rain gardens are typically quite small. They often occupy small depressions in a landscape and are used to filter small amounts of runoff.

Maintenance is Essential
If your property has a bioretention pond, rain garden, bioswale, or other type of stormwater management feature, you must ensure that you meet all of its maintenance needs. A poorly-maintained bioretention pond is not only ineffective at filtering stormwater, but it can also present safety and health hazards. Storm drains and outflows can quickly become clogged with roots or debris, and poor drainage can inadvertently cause flooding. If your property has a bioretention facility that has fallen into a state of disrepair, contact the experts at Reliable Contracting. Let us help you restore function to your stormwater management systems and protect your property and the surrounding environment.
ABOUT RELIABLE CONTRACTING
Reliable is dedicated to delivering quality products, displaying professionalism within the firm, seeking new opportunities for expansion and profitability, and providing an environment for individual success. If you have a commercial or residential construction project that you need taken care of, please contact Anne Arundel County's largest site-work contractor today by calling 410-987-0313 or visiting our website. You can also follow Reliable Contracting on Facebook, LinkedIn, Pinterest, and Twitter!

Reliable Contracting Company serves the following and surrounding counties: Annapolis, Queen Anne's, Anne Arundel, Baltimore, Baltimore City, Calvert, Caroline, Charles, Howard, Prince George, St. Mary's, Talbot, and Washington D.C.