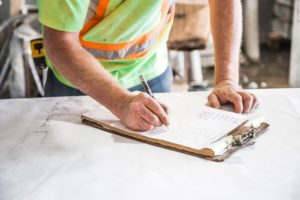 Finding a team to take on your new construction project can be easy, but finding a qualified team that will do the job well takes work. If you do not know what to look for, it can be easy to pick the wrong contractor and end up with subpar work, fines, and the need for expensive repairs. Fortunately, the experts at Reliable Contracting are available to tackle a wide variety of construction and paving projects in Maryland and Washington, D.C. Here are some things to think about when considering new construction contractors.
Experience is Key for New Construction Contractors
There are plenty of new construction contractors out there, but their experience and track record can help you determine the level of service and the quality of the finished product you are likely to receive. Choose a team with experience working on projects that are similar to yours, and be sure to look for reviews and references. Reliable has been serving businesses and government agencies in Maryland and Washington, D.C. since 1928, and we have completed a wide range of projects with a variety of clients and challenges.
Estimates for Time and Cost
When comparing new construction contractors, many people focus on comparing estimates. When looking at quotes for the time and cost of your project, you should not simply choose the fastest and cheapest estimate you can find. While your team should try to limit expenses when possible, cutting costs in construction can often lead to shoddy work and high maintenance and repair costs down the line. Although an estimate with a relatively fast timeline might seem appealing, it can actually indicate an inexperienced contractor or one who likes to cut corners. Take the labor, materials, and challenges of your project into account when analyzing and comparing estimates, and do not settle for the lowest bidder.
Safety Record
Many people do not consider the safety record of the new construction contractors they hire, and this can be a costly mistake. While you might not be found liable for employee injuries or worksite accidents, safety incidents can put your project behind schedule. Choose a team with an excellent track record for safety. Reliable Contracting has been recognized for our commitment to safety and excellence in every job, and we look forward to sharing that excellence with our clients. If you are considering new construction contractors and value high-quality work and excellent service, contact Reliable Contracting today.
ABOUT RELIABLE CONTRACTING
Reliable is dedicated to delivering quality products, displaying professionalism within the firm, seeking new opportunities for expansion and profitability, and providing an environment for individual success. If you have a commercial or residential construction project that you need taken care of, please contact Anne Arundel County's largest site-work contractor today by calling 410-987-0313 or visiting our website. You can also follow Reliable Contracting on Facebook, LinkedIn, Pinterest, and Twitter!

Reliable Contracting Company serves the following and surrounding counties: Annapolis, Queen Anne's, Anne Arundel, Baltimore, Baltimore City, Calvert, Caroline, Charles, Howard, Prince George, St. Mary's, Talbot, and Washington D.C.