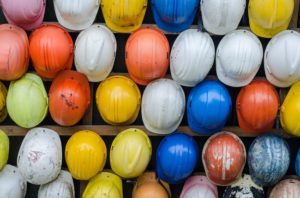 Personal protective equipment, or PPE, has been a hot topic in the news lately. Shortages of N95 masks, disposable gloves, and other essential items are creating challenges for first responders and medical professionals everywhere. Although N95 masks, nitrile gloves, and face shields are dominating discussions of PPE, many other types of personal protective equipment are used in construction jobs every day to keep workers safe. When on the job, construction professionals must use appropriate PPE for the situation to protect various parts of their bodies.
Hand Protection for Welders, Electricians, and More
Professionals in a variety of construction jobs use gloves to protect their hands, but the types of gloves used often depend on the hazards that are present. Welders typically wear thick heat-resistant gloves, while electricians opt for insulated protection. The thin nitrile gloves that are common in healthcare are not suitable for many types of construction jobs; instead, gloves that provide insulation and protection from chemicals, heat, and lacerations are more practical.
Head Protection: Head, Eyes, Face, Mouth, and Ears
Construction workers must take a multifaceted approach to PPE for their heads. Safety goggles, hard hats, earplugs, and respirators all serve essential functions and protect different parts of the body. Hard hats protect the head from impact, and things like goggles or face shields can protect workers' eyes. Earplugs are often used around loud equipment, and masks and respirators are vital for carpenters or other workers who are exposed to dust of any kind. As with hand protection, welders, carpenters, and other specialty workers often have unique needs for their head protection.
Use Foot Protection That is Tough and Slip-Resistant
Finally, professionals in construction jobs are required to wear proper foot protection. This often takes the form of a sturdy pair of work boots, steel-toed or otherwise. Boots should be designed to prevent damage to the feet from falling equipment or materials. While steel-toed boots are a popular choice, many workers prefer boots with toes made of composite materials, as these do not conduct heat or electricity. Lastly, foot protection should be slip-resistant and have a good grip. Construction workers often find themselves working on dusty, wet, or slippery surfaces, and having footwear that provides good traction is essential.
ABOUT RELIABLE CONTRACTING
Reliable is dedicated to delivering quality products, displaying professionalism within the firm, seeking new opportunities for expansion and profitability, and providing an environment for individual success. If you have a commercial or residential construction project that you need taken care of, please contact Anne Arundel County's largest site-work contractor today by calling 410-987-0313 or visiting our website. You can also follow Reliable Contracting on Facebook, LinkedIn, Pinterest, and Twitter!

Reliable Contracting Company serves the following and surrounding counties: Annapolis, Queen Anne's, Anne Arundel, Baltimore, Baltimore City, Calvert, Caroline, Charles, Howard, Prince George, St. Mary's, Talbot, and Washington D.C.