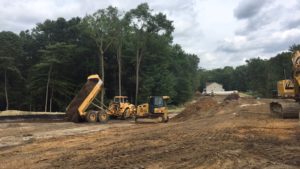 Soil compaction is a necessary step in creating the right soil conditions for building new structures such as roads, bridges, sidewalks, and buildings. When construction workers excavate the soil to build upon, the soil loses its natural ability to sustain weights without shifting. It can take days and even years for the soil to settle, and in that time, anything on top of it will also shift. Compaction speeds up this process and makes the soil foundation-ready. Before starting the job, one must choose the right soil compactor. Here are three main types of soil compactors and how to select the right one.
Guiding Principles for Selecting the Right One
Different soil compactors have different functions and work for different specific settings. One needs to evaluate each job site and match the right machine accordingly. Some of the principles of selecting the right one include:
Weight: The weight of each compactor must be just right, not too light and not too heavy. If it is too light, it simply won't get the job done and will waste time and money. If it is too heavy, it will crush the soil, and the soil will need replacing.
Size: The size of each compactor roller also matters. The best one depends on how large the job site is.
Soil type: The soil can be native or manmade. Some construction sites might use the existing soil, while others might stabilize the soil to create a sturdier substance. Moreover, the soil could be granular or cohesive, both of which require different compacting methods.
Other factors: Climate, moisture content, slope, and project goals can also affect the equipment selection for the job. All in all, a professional crew like Reliable Contracting has the training and experience to take all these factors into account.
Types of Soil Compactors
Static
Static rollers work best for compacting thin soils or asphalt surfaces. They rely on the weight of the drum and machine itself to smooth and stabilize the material. They may have three-wheeled, pneumatic, or tandem designs.
Vibratory
A vibratory roller is especially effective in compacting granular soils. It lifts up material from a certain depth and causes it to vibrate until it forms a locked position. It is also decent for compacting cohesive soils like clay and silt.
Impact
An impact compactor has the greatest impact. It pounds or rolls over the soil at a rapid rate, which is best for larger construction sites. If you need compaction, excavating, and grading services in Maryland, call Reliable Contracting!
ABOUT RELIABLE CONTRACTING
Reliable is dedicated to delivering quality products, displaying professionalism within the firm, seeking new opportunities for expansion and profitability, and providing an environment for individual success. If you have a commercial or residential construction project that you need taken care of, please contact Anne Arundel County's largest site-work contractor today by calling 410-987-0313 or visiting our website. You can also follow Reliable Contracting on Facebook, LinkedIn, Pinterest, and Twitter!
Reliable Contracting Company serves the following and surrounding counties: Annapolis, Queen Anne's, Anne Arundel, Baltimore, Baltimore City, Calvert, Caroline, Charles, Howard, Prince George, St. Mary's, Talbot, and Washington D.C.