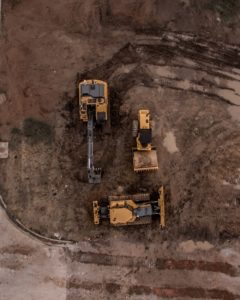 As long as people have built buildings and roads, soil stabilization has been a part of the process. Before laying the foundation, one will need to consider how the soil underneath it might affect the structural integrity later on. For example, cities like New York City and Washington, D.C., were once swamps, but engineers had to change the soil to make it suitable for the highrises. Below are different soil types that Maryland construction commonly deals with.
Sand
The soil tends to be sandy on the eastern side of Maryland around the Bay. Although it may appear to be the most unstable form of dirt in construction, it actually has the largest and hardest particles, being broken-down rocks. Because they are fundamentally rocks, compacting sandy soil is one way to help stabilize it.
Silt
Silt is the soft, muddy soil found at the bottom of the Bay, its rivers, and on fertile, soggy land. Similar to sand, it consists of tiny rock particles from stones worn out by wind and water. Although it may seem like mud, it falls apart very easily. One will need to add chemicals or aggregates to help strengthen it.
Clay
Clay has the smallest particles of all. Each clay particle is practically microscopic, and together, they form a plastic, sticky soil. Its plasticity makes the soil stay in a constant state of flux, reshaping, expanding, and contracting. Therefore, adding chemicals or an aggregate is necessary to harden it.
Loam
Loam is a mix of sand and silt and sometimes clay. It is one of the most desirable consistencies for construction projects, but not all loamy soils are the same. For example, there is sandy loam and clay loam. Every construction project begins with an evaluation of the soil; once you have the soil test results, professional excavators like Reliable Contracting can take the next appropriate steps for soil stabilization.
Rock
In Western Maryland, you will find that the soil is rocky, full of stones and gravel. Should rocks and boulders be in the way of construction, Reliable Contracting will take the right steps to remove larger rocks and use existing smaller ones for soil stabilization.
ABOUT RELIABLE CONTRACTING
Reliable is dedicated to delivering quality products, displaying professionalism within the firm, seeking new opportunities for expansion and profitability, and providing an environment for individual success. If you have a commercial or residential construction project that you need taken care of, please contact Anne Arundel County's largest site-work contractor today by calling 410-987-0313 or visiting our website. You can also follow Reliable Contracting on Facebook, LinkedIn, Pinterest, and Twitter!
Reliable Contracting Company serves the following and surrounding counties: Annapolis, Queen Anne's, Anne Arundel, Baltimore, Baltimore City, Calvert, Caroline, Charles, Howard, Prince George, St. Mary's, Talbot, and Washington D.C.