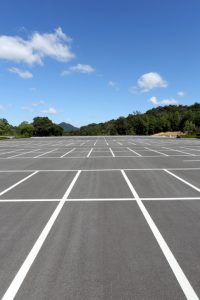 The average person might think that grading a parking lot means giving it an academic rating on how well it's doing. However, someone familiar with the industry will know that grading a parking lot means laying down the foundational sloping of the lot during the excavation process. This crucial, fine-tuned step has several goals in mind.
Drainage
The primary reason that excavators need to slope the land strategically before laying down the asphalt is to ensure proper drainage. Without the right slope of the land, water can wreak havoc on the asphalt and building foundations. The goal is to allow rain and snow to flow off of the parking lot and toward the nearest storm drain or swale with the simple force of gravity.
Code Compliance
Different government formations, laws, and municipalities hold different construction projects to a set of standards. These rules help to maintain a consistent level of excellence in construction projects across the land. Failure to comply with the various regulations could result in some major drainage issues, besides the need to invest extra time and energy to correct the issue later on.
Fitting the Design
One aspect of grading a parking lot is considering how pedestrians and vehicles will use it. For example, the location of the parking spots, the lanes, and the access to sidewalks will set up the traffic flow of the lot. It will also help to shape the grading of the land, enabling water to drain off the lot without interfering with vehicles or pedestrians.
The Good of the Community
As mentioned, proper parking lot drainage ensures that water will not collect around the foundations of buildings or wear down the asphalt itself. Grading is ultimately for the good of the community, preserving existing or future buildings and people from danger. While above-ground parts of a building are fixable, damage to the foundation is unthinkable. Also, when water puddles on asphalt, it eventually makes its way into asphalt cracks and breaks it apart further. Before you know it, potholes will form and be a hazard to vehicles and pedestrians alike. Proper grading ultimately saves the community from a watery disaster.
ABOUT RELIABLE CONTRACTING
Reliable is dedicated to delivering quality products, displaying professionalism within the firm, seeking new opportunities for expansion and profitability, and providing an environment for individual success. If you have a commercial or residential construction project that you need taken care of, please contact Anne Arundel County's largest site-work contractor today by calling 410-987-0313 or visiting our website. You can also follow Reliable Contracting on Facebook, LinkedIn, Pinterest, and Twitter!
Reliable Contracting Company serves the following and surrounding counties: Annapolis, Queen Anne's, Anne Arundel, Baltimore, Baltimore City, Calvert, Caroline, Charles, Howard, Prince George, St. Mary's, Talbot, and Washington D.C.