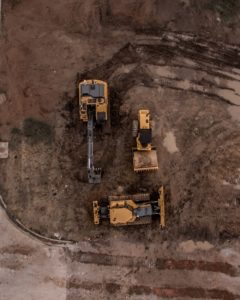 Any construction project requires the hard work and expertise of multiple specialists, tradespeople, and contractors. Grading contractors are common on many construction sites, particularly those that are in the early stages. Still, many civilians aren't familiar with what it is that these experts actually do. Grading contractors contribute significantly to all kinds of projects, and this blog explores some of the basics of this complex and important field.
Grading Contractors Put Safety First
Like any other construction professional, a grading contractor must put safety first. These experts must consider not only their personal safety, but the safety of everyone working on the site and those who will visit it in the years to come. Grading contractors must follow all safety best practices when it comes to creating a stable, level foundation, and they must also create a finished surface that can handle the demands placed on it in the future.
Grading Contractors Survey the Site and Create a Plan
When these professionals are tasked with creating a stable surface, they must first assess the worksite as it is. This involves surveying the site, taking soil samples, and working with other experts to create a plan to bring the worksite from its initial state to the specifications necessary for the project. This typically includes removing material, adding fill material, and using grading and compaction machines to create the required surface. Some grading contractors must also account for things like old structures, underground utilities, and unexpected debris on the worksite. These factors can have a significant influence on the site's stability.
Grading Contractors Create a Level Surface
Before they can break ground, grading contractors must secure any necessary permits, tests, or inspections necessary. Once work begins, they use a variety of tactics and machines to create a stable foundation. These experts may utilize backhoes, compact excavators, cranes, and other equipment in the process, and materials like soil cement, clay, and stone products are also used. No matter what type of structure is being created, grading contractors play a handful of crucial functions in the early stages of construction and beyond. The experts at Reliable Contracting have provided high-quality construction services in Maryland and the District of Columbia for over 90 years, and our team is standing by to help with your next project!
ABOUT RELIABLE CONTRACTING
Reliable is dedicated to delivering quality products, displaying professionalism within the firm, seeking new opportunities for expansion and profitability, and providing an environment for individual success. If you have a commercial or residential construction project that you need taken care of, please contact Anne Arundel County's largest site-work contractor today by calling 410-987-0313 or visiting our website. You can also follow Reliable Contracting on Facebook, LinkedIn, Pinterest, and Twitter!

Reliable Contracting Company serves the following and surrounding counties: Annapolis, Queen Anne's, Anne Arundel, Baltimore, Baltimore City, Calvert, Caroline, Charles, Howard, Prince George, St. Mary's, Talbot, and Washington D.C.