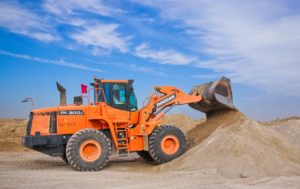 Construction professionals utilize an endless variety of materials to create the buildings and infrastructure we use every day. Various kinds of asphalt, concrete, and sand are just the tip of the iceberg when it comes to materials, and contractors often combine multiple substances to create the perfect balance of stability, flexibility, and strength. Soil cement is commonly used to provide added stability quickly and affordably. Read on to learn more about soil cement and its role in construction!
What Soil Cement is Made Of
As the name suggests, this material is made of fill dirt and cement, though the dirt used can also contain varying amounts of sand, clay, silt, and gravel. When the material is mixed in place on a construction site, crews will mix a predetermined amount of cement (or, in some cases, lime) into the fill dirt. The crew will then add water and mix the substances together. The mixture is graded, compacted, and allowed to solidify. This creates a strong, stable base from loose soil. 
Using Soil Cement for Added Stability
A firm foundation is crucial for any project, but the dirt present on a worksite isn't always ideal. Creating soil cement in place is a relatively fast and affordable way to improve the ground, creating a firmer and more stable area with a greater load-bearing capacity. This process is incredibly useful when creating building pads, roads, and other projects. Because the amount of new material needed to amend the existing dirt is relatively small, this method is a popular solution for projects with strict budgets and timelines. Soil cement installation is just one tool that the experts at Reliable Contracting use to create durable surfaces and strong building pads, and it's a valuable part of any construction crew's arsenal.
Other Common Uses for Soil Cement
Like its components, soil cement is a very versatile material that can be used in various ways. Stabilized worksites can be used to create ponds, roads, building pads, and more. While it has many uses in construction, the material can also be used in more artistic endeavors. Some artisans use the material to create stylish pavers, interior floors, bricks, and countless other building materials and objects. The uses for soil cement are as unique as the material's composition, but one thing is sure: soil cement is a valuable tool for creating stable foundations.
ABOUT RELIABLE CONTRACTING
Reliable is dedicated to delivering quality products, displaying professionalism within the firm, seeking new opportunities for expansion and profitability, and providing an environment for individual success. If you have a commercial or residential construction project that you need taken care of, please contact Anne Arundel County's largest site-work contractor today by calling 410-987-0313 or visiting our website. You can also follow Reliable Contracting on Facebook, LinkedIn, Pinterest, and Twitter!

Reliable Contracting Company serves the following and surrounding counties: Annapolis, Queen Anne's, Anne Arundel, Baltimore, Baltimore City, Calvert, Caroline, Charles, Howard, Prince George, St. Mary's, Talbot, and Washington D.C.