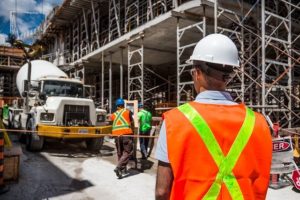 Do you live in a house? Drive on roads? Work in an office? If so, thank a construction worker! Our society simply wouldn't exist the way it does today without construction laborers, and these valuable professionals often face safety risks that those of us working in office environments simply cannot fathom. Construction is a broad field with countless specialties, and each facet of the industry deals with unique safety concerns. Fortunately, construction laborers have access to PPE, training, and safety best practices that can keep them (and coworkers and passersby) protected on the job.
Construction Laborers Stay Alert at All Times
If you've ever been up close and personal with a tractor, crane, or other large pieces of equipment, you know that heavy machinery is no joke. Worksites are full of massive construction equipment and countless safety hazards that can ruin someone's day (or change their life) in an instant. To manage these risks, construction laborers must remain alert at all times. Even the most straightforward projects can present some risks, which is why construction laborers must always stay vigilant.
Construction Laborers Wear Appropriate PPE
While some incidents arise from unpredictable circumstances, there are ways for construction laborers to be proactive about personal safety. Using all necessary personal protective equipment (PPE) is one way for these professionals to prepare for the unexpected. Hardhats, gloves, steel-toed boots, goggles, and masks are just a few tools that construction laborers use every day, and specialized jobs and worksites may require other types of PPE.
Safety Training
If you climbed into the driver's seat of a dump truck today, could you operate it? Working with construction equipment isn't easy, and many machines require a deft hand and a thorough knowledge of safety protocols to use effectively. Construction laborers often undergo thorough training to bring them up to speed on safety best practices, worksite standards, and other lessons that help them create a safe worksite for everyone.
Putting Safety First
Cutting corners may fly in some occupations, but shortcuts have no place on construction sites. Construction laborers must always put safety and high-quality work above all else, even if there are faster or easier ways of doing things. By following safety best practices (even if they seem unnecessary or time-consuming), workers can avoid worksite safety incidents that lead to personal injury, delays, and other complications.
ABOUT RELIABLE CONTRACTING
Reliable is dedicated to delivering quality products, displaying professionalism within the firm, seeking new opportunities for expansion and profitability, and providing an environment for individual success. If you have a commercial or residential construction project that you need taken care of, please contact Anne Arundel County's largest site-work contractor today by calling 410-987-0313 or visiting our website. You can also follow Reliable Contracting on Facebook, LinkedIn, Pinterest, and Twitter!

Reliable Contracting Company serves the following and surrounding counties: Annapolis, Queen Anne's, Anne Arundel, Baltimore, Baltimore City, Calvert, Caroline, Charles, Howard, Prince George, St. Mary's, Talbot, and Washington D.C.