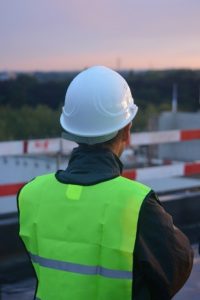 Work zone safety isn't just crucial for construction workers — even with contractors and crews following all relevant safety best practices, pedestrians and drivers can play a significant role in work zone safety. While most of us still remember a tip or two from our drivers' ed classes, many people still have some questions about driving (or walking) through work zones. This week's installment of our Work Zone Awareness Month feature tackles some frequently asked questions from Maryland drivers and pedestrians. Keep these FAQs in mind the next time you're traveling near a work zone, and remember: the construction workers you're driving past are someone's family. Drive like your family members are in these work zones.
Why are Road Restrictions in Place When There's No Active Construction?
While some projects can be completed quickly, others require long-term work. Some work zones still have reduced speed limits, adjusted traffic patterns, and other restrictions, even without active construction. While these restrictions may seem like an unnecessary inconvenience, it's important to remember that speed reductions and road closures aren't just intended to protect construction workers on the worksite. A seemingly inactive work zone may have open trenches, missing road striping, or no pavement at all! It is important to follow all posted instructions when driving near a work zone, even if there is no visible activity.
How Fast Should I Drive Near a Work Zone?
This question seems like a straightforward one, and to a certain extent, it is. There is no set speed at which cars should travel through all work zones. Drivers should follow all posted signs, road crew flaggers, and pilot cars. Speed reductions aren't always necessary in work zones, so the safest course of action is to follow the flow of traffic and obey the posted speed limit.
How Should I Navigate Work Zones as a Pedestrian?
If you've ever walked down a busy city street, you've likely encountered a closed sidewalk or two. Many states and cities have strict requirements for diversion paths and detours for pedestrians: alternate routes for pedestrians must be clearly marked, and pedestrians must be safe from work zone hazards. If you approach a work zone and your intended path is temporarily closed, look for a posted detour. In the event that a clear detour is not present, do not walk past barricades or walk through the work zone; use pedestrian crossings and take an alternate route.
ABOUT RELIABLE CONTRACTING
Reliable is dedicated to delivering quality products, displaying professionalism within the firm, seeking new opportunities for expansion and profitability, and providing an environment for individual success. If you have a commercial or residential construction project that you need taken care of, please contact Anne Arundel County's largest site-work contractor today by calling 410-987-0313 or visiting our website. You can also follow Reliable Contracting on Facebook, LinkedIn, Pinterest, and Twitter!

Reliable Contracting Company serves the following and surrounding counties: Annapolis, Queen Anne's, Anne Arundel, Baltimore, Baltimore City, Calvert, Caroline, Charles, Howard, Prince George, St. Mary's, Talbot, and Washington D.C.