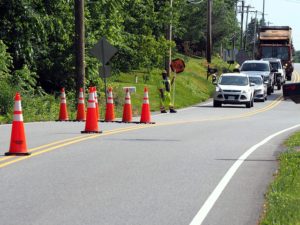 As we enter Work Zone Safety Awareness Month, some of our readers may find themselves struggling to recall their drivers' ed lessons on work zones. How much slower should you drive? What do all of the signs mean? While work zone safety is a life-or-death issue for construction laborers and drivers, it doesn't have to be complicated; simply staying alert and following directions can go a long way in keeping everyone safe on Maryland's roads. Follow these safe driving tips to protect construction laborers, other drivers, and yourself on our highways.
Avoid Distractions and Stay Alert — the Lives of Construction Laborers Depend on it!
Many of us, especially those that commute, tend to multitask or let our minds wander as we drive. You might be thinking about a project at work, making a hands-free phone call, or taking a sip from your coffee as you drive on autopilot. When it comes to work zones, drivers need to be on high alert. Put your coffee down, end your phone call, and stay focused. Traffic patterns are often different than usual in work zones, and large machines or construction laborers may be moving around near the road. Pay attention for sudden starts or stops, and anticipate unexpected obstacles or changes in speed.
Obey All Signs, Flags, and Instructions from Construction Laborers
While drivers should certainly expect the unexpected, there are plenty of signs and other indicators that can help passersby navigate work zones safely. Signs can include special speed limits, detour instructions, and changes to the road's usual traffic patterns. These signs may be accompanied by construction laborers giving instructions, often with flags or hand motions. Proceed with extreme caution and follow all instructions from road crew flaggers.
Protect Construction Laborers by Being Patient and Going with the Flow of Traffic
As much as contractors try to limit delays and inconveniences related to construction, some detours and delays are simply unavoidable. Be patient and avoid losing your temper; remember that road crews are there to help make your roads safer. If you know that there is a work zone along your route, try to schedule extra time for your trip. Check local news sites, radio programs, and television to see where construction is taking place in your area. As you drive through work zones, go with the flow of traffic and avoid tailgating. You may be in a rush to get to your destination, but causing a fender-bender by tailgating is sure to make you late!
ABOUT RELIABLE CONTRACTING
Reliable is dedicated to delivering quality products, displaying professionalism within the firm, seeking new opportunities for expansion and profitability, and providing an environment for individual success. If you have a commercial or residential construction project that you need taken care of, please contact Anne Arundel County's largest site-work contractor today by calling 410-987-0313 or visiting our website. You can also follow Reliable Contracting on Facebook, LinkedIn, Pinterest, and Twitter!

Reliable Contracting Company serves the following and surrounding counties: Annapolis, Queen Anne's, Anne Arundel, Baltimore, Baltimore City, Calvert, Caroline, Charles, Howard, Prince George, St. Mary's, Talbot, and Washington D.C.