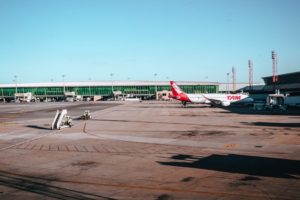 Although air travel is slowly ramping back up, airports are serving fewer fliers than they have in recent memory. According to data from the Bureau of Transportation Statistics, the number of passengers served on international and domestic flights in April of 2020 was roughly 3.3 million, falling far short of the 87 million passengers served in the same month of 2019. While figures are still coming in from November and December, the overall trend shows a remarkable drop in annual air traffic due to COVID-19. This lack of traffic (and revenue) may be concerning for stakeholders. Still, it presents an opportunity to perform much-needed maintenance without hindering airport operations. Working with a dependable airport contractor is vital for these projects. Airport contractors must be able to complete projects within time and budget constraints while also achieving these key objectives.
Each Airport Contractor Must Maintain a Safe and Secure Perimeter
Since September 11th, 2001, security has been the primary concern for travelers, government agencies, and airport personnel. Airport contractors must address security concerns head-on. These professionals must always maintain a high standard of safety and security, but COVID-19 has added even more hurdles to an already challenging process. When completing projects related to air travel, construction professionals must work with administrators, security personnel, and other relevant parties to ensure a secure perimeter and comply with all existing security measures. Construction must be done in a way that does not interfere with screening processes for passengers, baggage, and employees.
Communication is Vital for Airport Contractors and Other Key Stakeholders
In order to minimize traveler disruptions and security vulnerabilities, airport contractors must remain in constant communication with key project stakeholders. Government agencies, regulatory bodies, security contractors, and airport administrators each have a role to play, and construction professionals must maintain open lines of communication to minimize misunderstandings, complications, and delays.
An Airport Contractor Must Develop a Well-Informed Schedule, Often With Multiple Phases
Airport contractors have a bit more leeway with today's reduced air traffic, but developing a detailed schedule is still vital. Most projects are divided into distinct phases, allowing travel to continue with minimal disruption throughout the process. These phases may include rerouting vehicle traffic while repaving part of a road, moving flights to another terminal while a runway is being paved, or otherwise redirecting traffic to allow construction to take place.
ABOUT RELIABLE CONTRACTING
Reliable is dedicated to delivering quality products, displaying professionalism within the firm, seeking new opportunities for expansion and profitability, and providing an environment for individual success. If you have a commercial or residential construction project that you need taken care of, please contact Anne Arundel County's largest site-work contractor today by calling 410-987-0313 or visiting our website. You can also follow Reliable Contracting on Facebook, LinkedIn, Pinterest, and Twitter!
Reliable Contracting Company serves the following and surrounding counties: Annapolis, Queen Anne's, Anne Arundel, Baltimore, Baltimore City, Calvert, Caroline, Charles, Howard, Prince George, St. Mary's, Talbot, and Washington D.C.