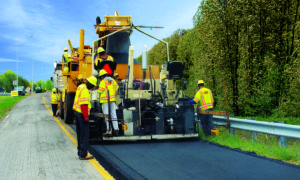 What does it take to transform an untouched patch of earth into a smooth, level road? There are numerous essential steps that are designed to prepare surfaces, strengthen foundations, and smooth pavement to create a firm, durable, and safe asphalt surface. Here is a basic breakdown of the processes involved in asphalt paving: how contractors prepare the worksite, install a subbase and pavement, and compress the finished surface.
First Steps of Asphalt Paving: Demolition and Site Preparation
Before asphalt paving contractors can create a road or other paved surface, they need to have a clear and level worksite. This involves demolishing any unnecessary structures, removing debris and plant life, and milling and recycling the old pavement. Contractors will then grade the area; leveling the site for proper drainage. This is a crucial step for the long-term performance of any asphalt surface.
Laying Subbase and a Binder Layer for Asphalt Paving
Once the worksite has been prepared, asphalt paving contractors develop the subbase. Contractors can use various materials to create a stable, compact subbase. This layer is one of the most critical components of a well-installed asphalt surface, and its execution is vital to the lifespan and durability of the pavement. The subbase is installed to comply with the aforementioned proper grade, compacted, and patched to create a smooth blank canvas for the asphalt itself. After the subbase has been installed, contractors will lay a binder layer made of coarse aggregate, oil, and other binders.
Laying Butt Joints and Compacting the Surface
Most paved surfaces are connected to other roads, driveways, or parking lots, and one of the final steps in asphalt paving is to connect these paved surfaces with butt joints and transitional areas. Once this is done, contractors will use a roller truck or other machinery to compress and compact the surface. This ensures that the surface is entirely flat, with no bits of aggregate or rock jutting up from the pavement.
Installing the Top Layer of Asphalt
The final step in asphalt paving is to install the new layer of asphalt pavement, consisting of small aggregate, sand, and binders. This creates the smooth, black, shiny pavement with which drivers and pedestrians are familiar.
ABOUT RELIABLE CONTRACTING
Reliable is dedicated to delivering quality products, displaying professionalism within the firm, seeking new opportunities for expansion and profitability, and providing an environment for individual success. If you have a commercial or residential construction project that you need taken care of, please contact Anne Arundel County's largest site-work contractor today by calling 410-987-0313 or visiting our website. You can also follow Reliable Contracting on Facebook, LinkedIn, Pinterest, and Twitter!
Reliable Contracting Company serves the following and surrounding counties: Annapolis, Queen Anne's, Anne Arundel, Baltimore, Baltimore City, Calvert, Caroline, Charles, Howard, Prince George, St. Mary's, Talbot, and Washington D.C.