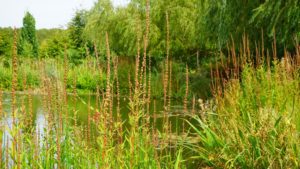 As the new year begins, many of us are looking forward to a brighter future. This year was a challenge, but all kinds of people are striving to improve in 2021. Part of creating a better future for our communities involves making necessary changes and updates to existing infrastructure, including stormwater retention systems and detention ponds. Modern ways of approaching stormwater management are thought to be better at filtering and reintroducing stormwater while preserving our local habitats and ecosystems. Keep reading to learn more about stormwater management systems and the benefits of a detention pond retrofit.
Detention Ponds for Stormwater Storage: What a Pond Retrofit Aims to Do
Older strategies of stormwater management prioritized preventing floods above all else. Many approaches involved creating detention ponds to hold runoff, either allowing it to evaporate over time or diverting it quickly into nearby streams. Each of these methods has its problems, and modern approaches to stormwater management aim to reduce flooding while also minimizing erosion, pollution, and damage to local waterways.
Methods for a Stormwater Pond Retrofit
There are a few different approaches that businesses, contractors, and government agencies use today regarding stormwater management. A modern stormwater pond retrofit often incorporates mechanical and biological filtration, utilizing various fill materials and plants to safely reintroduce filtered water into the water table and nearby waterways. Rather than storing runoff in large concrete evaporation pools, a stormwater pond retrofit will often utilize layers of clay, soil, gravel, and sand along with native aquatic or semi-aquatic plants.
Benefits of a Pond Retrofit
Not only does a pond retrofit help the environment by reintroducing runoff in a way that minimizes pollution, erosion, and flooding, but it can also create a beautiful addition to any property. Stormwater management systems with plants can add a gorgeous natural element to places like parking lots, corporate campuses, residential areas, and more. For more information about stormwater management systems and pond retrofit methods, contact the team at Reliable Contracting! Our experts provide valuable construction services to businesses and government agencies throughout Maryland and the Washington, D.C. area.
ABOUT RELIABLE CONTRACTING
Reliable is dedicated to delivering quality products, displaying professionalism within the firm, seeking new opportunities for expansion and profitability, and providing an environment for individual success. If you have a commercial or residential construction project that you need taken care of, please contact Anne Arundel County's largest site-work contractor today by calling 410-987-0313 or visiting our website. You can also follow Reliable Contracting on Facebook, LinkedIn, Pinterest, and Twitter!
Reliable Contracting Company serves the following and surrounding counties: Annapolis, Queen Anne's, Anne Arundel, Baltimore, Baltimore City, Calvert, Caroline, Charles, Howard, Prince George, St. Mary's, Talbot, and Washington D.C.