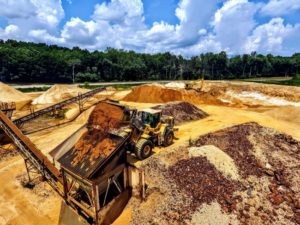 While the team at Reliable Contracting specializes in all things asphalt, our work involves a lot of other materials, too. Gravel, concrete, dirt, and clay are just a few of the substances that our crews use to create foundations, roads, and stormwater management systems. Sand comes in numerous forms, and each one has its strengths and common uses. From the smallest fines to the largest pieces of gravel, sand and other stone products have their places in our communities and infrastructure. In this blog, we take a deep dive into the many uses for sand in construction.
Creating Strong Pavement With Concrete Sand
Concrete sand is a specific type of aggregate used in concrete mixtures, beneath paved surfaces, and as pipe bedding for various types of infrastructure. Finding the perfect ratio of water, cement, concrete sand, and other additives is crucial in creating smooth, durable, and long-lasting pavement. Concrete sand isn't just used in the concrete itself; it is also used as a base for pavers and roads.
Using Sand as a Fill Material in Damp Areas
Like gravel, some types of sand can provide drainage for foundations, underground utilities, and stormwater management systems. In these types of applications, the material is used to hold things like pipes or building pads in place while allowing water to filter through. Some stormwater management systems utilize this material to provide mechanical filtration, support other layers of fill, or act as a growth medium for aquatic or semi-aquatic plants.
Is Sand an Unsuitable Material for Foundations? Not Always.
Imagine you have a box filled with sand. If you place a toy house on the surface of the sand and shake the box from side to side, what happens? Typically, the heavy object (the toy house) will sink. This exercise is often used to illustrate sand's relative instability in earthquake-prone areas, but the same can hold true in places like Maryland, too. Large volumes of pure sand can act similarly to a liquid: the rounded grains tend to slip and slide around one another, making it hard to dig into or use to bear weight. However, that doesn't mean that it shouldn't be used in foundations. Fill that contains sand and various amounts of clay, soil, and gravel can be an excellent starting point for foundations, particularly in low-lying or damp areas. Even in incredibly sandy areas, contractors have methods of creating foundations and building pads that distribute weight evenly and provide stability.
ABOUT RELIABLE CONTRACTING
Reliable is dedicated to delivering quality products, displaying professionalism within the firm, seeking new opportunities for expansion and profitability, and providing an environment for individual success. If you have a commercial or residential construction project that you need taken care of, please contact Anne Arundel County's largest site-work contractor today by calling 410-987-0313 or visiting our website. You can also follow Reliable Contracting on Facebook, LinkedIn, Pinterest, and Twitter!
Reliable Contracting Company serves the following and surrounding counties: Annapolis, Queen Anne's, Anne Arundel, Baltimore, Baltimore City, Calvert, Caroline, Charles, Howard, Prince George, St. Mary's, Talbot, and Washington D.C.