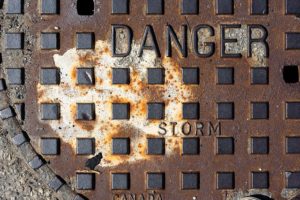 Snow and rain have begun to fall in earnest throughout Maryland and Washington, D.C. As temperatures fluctuate and ice begins to melt, public and private stormwater management systems will be put to the test. Storm drains are such a common sight on all kinds of properties that many people don't give them a second thought. Still, a functioning storm drain is absolutely essential; a clogged or cracked pipe can result in water damage, flooding, sinkholes, and other hazards. Keep an eye out for these signs of a broken storm drain as you try to stay warm and dry this season.
The Importance of an Effective Storm Drain for Maryland Properties
Stormwater management is vital in Maryland. The region's humid climate and high amounts of annual precipitation can wreak havoc on residential and commercial structures without proper drainage. Furthermore, Maryland's delicate natural ecosystems are often in close proximity to urban areas, residential developments, and roadways. Storm drains are a critical component of adequate stormwater management, and they are responsible for carrying rainwater and runoff safely through underground storm drain systems.
Signs of a Broken Storm Drain
A broken or damaged storm drain can cause water damage, sinkholes, and structural instability, but the first signs can be incredibly subtle. Cracks in underground pipes can cause damp spots in soil or unusually lush foliage in an area as plants capitalize on excess moisture around the pipe. Small fissures in pipes can become more extensive over time, with trees often sending roots into the line to track down water. More obvious signs of a broken storm drain include sinkholes in nearby pavement and overflowing or slow-draining storm drains. When drains are clogged or cracked, water may seep into places it shouldn't, damaging nearby structures and fragile ecosystems.
Storm Drain Repair and Replacement
One of the best ways to ensure the longevity and performance of torm stormwater management infrastructure is to hire a team of experts to construct it in the first place. The professionals at Reliable Contracting are experienced in storm drain construction, designing and building stormwater management systems, and repairing damage to pavement. Prompt storm drain repair (or replacement) is crucial, as unchecked runoff can wreak havoc on all kinds of structures. If your facility's storm drains need repair or replacement, contact the experts at Reliable Contracting!
ABOUT RELIABLE CONTRACTING
Reliable is dedicated to delivering quality products, displaying professionalism within the firm, seeking new opportunities for expansion and profitability, and providing an environment for individual success. If you have a commercial or residential construction project that you need taken care of, please contact Anne Arundel County's largest site-work contractor today by calling 410-987-0313 or visiting our website. You can also follow Reliable Contracting on Facebook, LinkedIn, Pinterest, and Twitter!
Reliable Contracting Company serves the following and surrounding counties: Annapolis, Queen Anne's, Anne Arundel, Baltimore, Baltimore City, Calvert, Caroline, Charles, Howard, Prince George, St. Mary's, Talbot, and Washington D.C.