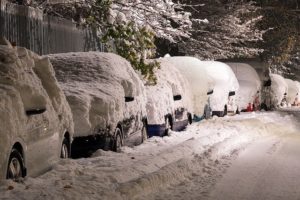 As Marylanders prepare for the first heavy snowfall of the season, many community managers and business owners are scrambling to ensure that their commercial snow removal efforts are ready to go. Removing snow and ice is not just vital from a safety standpoint — effective preventative measures and prompt snow removal can also prolong the life of asphalt surfaces and make properties look better. If your facility is in need of a robust commercial snow removal plan, read this blog and contact the team at Reliable Contracting.
Why is Commercial Snow Removal Necessary?
Snow can be gorgeous, but it can also present significant safety hazards for pedestrians and drivers on all kinds of properties. Slip-and-fall accidents can be a nightmare for property owners, and hazardous road conditions put everyone at risk. Furthermore, when snow and ice are left to sit, thaw, and re-freeze, the repeated freeze-thaw cycle can cause damage to asphalt, concrete, and other structures. Keeping properties clear of ice is an excellent way to maintain a safe facility and encourage guests to visit.
Common Preventative Measures for Commercial Snow Removal
A sound snow removal strategy requires a two-pronged approach that includes preventative measures and the physical removal of snow by shoveling or plowing. Property owners and managers must work with a professional team to utilize appropriate deicers ahead of expected snowfall. Things like salt, beet juice, and chemical deicers are popular on commercial, private, and public properties, and a team of snow removal experts can apply deicers to minimize the buildup of ice and snow.
Essential Aspects of Commercial Snow Removal
Proactive thinking is just one aspect of an effective commercial snow removal plan. Once the snow falls, snow removal professionals must snap into action with prompt service, thorough removal, and effective equipment. Snowplows, snowblowers, and other machines can make quick work out of clearing a roadway or parking lot. Working with a team of snow removal experts allows business owners and managers to rest easy, knowing that they've done what they can to minimize the impact of snow and ice on their properties.
ABOUT RELIABLE CONTRACTING
Reliable is dedicated to delivering quality products, displaying professionalism within the firm, seeking new opportunities for expansion and profitability, and providing an environment for individual success. If you have a commercial or residential construction project that you need taken care of, please contact Anne Arundel County's largest site-work contractor today by calling 410-987-0313 or visiting our website. You can also follow Reliable Contracting on Facebook, LinkedIn, Pinterest, and Twitter!
Reliable Contracting Company serves the following and surrounding counties: Annapolis, Queen Anne's, Anne Arundel, Baltimore, Baltimore City, Calvert, Caroline, Charles, Howard, Prince George, St. Mary's, Talbot, and Washington D.C.